How to Apply
Applying for Summer Residence
Choosing residence life at Dalhousie is easy. Just follow the steps below to complete your Online Residence Application.
Step#1: Visit Dal Online
You will need to login to Dal Online with your NetID and password. Your NetID provides access to email, MyDal, computer labs, and other services. The NetID is usually two letters from your name, followed by six digits. Example: xy999999
Once you've logged in
select the 'Web for Students' link in the menu or click the 'Student' tab
then follow the links to Residence Application
once in the Residence Hub, select 2022/23 in the drop down menu 
Under the Summer Residence section, select Create Your Application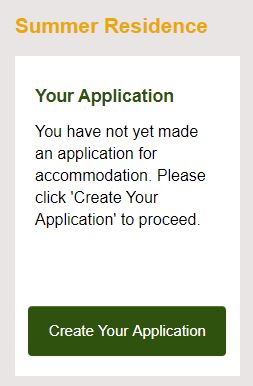 Answer all of the needed questions and select your preferences
There is a $50 residence application fee payable within the online application
Your application is complete when you get a confirmation email to your Dalhousie email
Step #2: Check your Dal email
Check your Dal email regularly. Residence offers will start being sent out mid-late April and will continue throughout the summer.
Need help?
If you are having any trouble accessing your NetID or logging into Dal Online, please visit the Dal Help Desk website for additional assistance.

For help with completing your online application, please contact the Residence Office.