Dining
From on-campus dining halls to nearby restaurants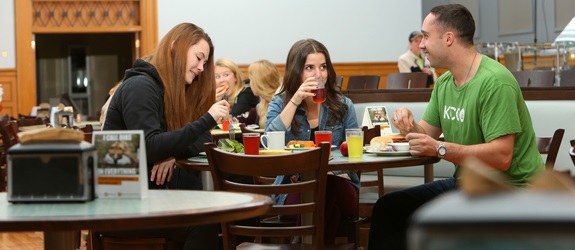 You'll have plenty of dining options to choose from during your stay. Buffet meals in our dining halls. An eclectic colllection of restaurants around Spring Garden Road. Or a quick bite from the coffee shop up the street. What do you have a taste for?
On-campus dining
Dining halls
One of our dining halls is often open for a breakfast, lunch and dinner buffet—depending on business levels. A minimum guarantee of 20 guests is required to open the hall for any meal but this can be in combination with other guests. Please inquire about availability when you check in.

Campus eateries
Some locations might have limited hours outside of the academic year, so please check with the front desk.

View the Dining Locations map on the Campus Dish website.

Nearby restaurants
This is just a sample of some of the restaurants, coffee shops and eateries within a few minutes' walk from campus.
And of course, there are options of every flavour within the Spring Garden Road area, in the downtown and along the waterfront. See the Destination Halifax website to learn more.