Current Interns
2018
Krysten Lyons, Master of Resource and Environmental Management candidate
WWF-Canada Research Intern: Operationalizing Ecosystem-based Fisheries Management in Atlantic Canada

Forage fish such as herring, capelin and mackerel play a critica role in marine ecosystems and the economy of Atlantic Canada. Acting as an energy link, they connect the base of the food web with higher trophic levels. As such, a change in forage fish abundance, or a shift in their distribution can have a significant impact on their dependent predators. In addition to their ecological role, forage fish support commercial, recreational, and food, social and ceremonial fisheries in Atlantic Canada. However, forage fish are highly sensitive to environmental conditions and therefore physical variables such as water temperature can have a significant impact on their abundance. Given the key role of forage fish within ecosystems, their socio-economic and cultural importance, and the sensitivity of forage fish to environmental conditions, a holistic approach to management is necessary to effectively build and maintain healthy fish stocks.
Ecosystem-based fisheries management (EBFM) is an inclusive form of management which can incorporate social and economic factors in addition to physical and ecological data, and which explicitly recognizes the complexity of a given system. It has been discussed in the peer-reviewed literature for several decades, during which time the definition of EBFM has continuously evolved. Governments and organizations at the national and international level have incorporated EBFM into their management goals and objectives. However, despite a large published knowledge base, and the apparent willingness of organizations to adopt an EBFM approach, there continues to be a gap between knowledge and action, with the actualization of EBFM lagging behind the theoretical discourse.
Given the potential for an EBFM approach to effectively tackle complex issues such as the management of forage fish, and the practical difficulties associated with implementing it, Kristyn's internship investigated how to operationalize EBFM in Atlantic Canada. Her work included evaluating the current status of EBFM within Integrated Fisheries Management Plans for forage fish and their predators in Atlantic Canada, and developing a suite of recommendations for improving the implementation of EBFM within the current management framework.
Riley Schnurr, Master of Resource and Environmental Management candidate
WWF-Canada Research Intern: Understanding Marine Debris
Marine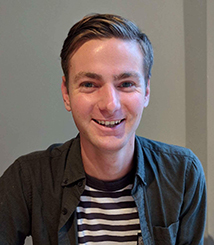 debris, specifically in the form of plastic pollution, is pervasive in the marine environment. It has been found on remote islands far from any human habitation, and at the greatest depths of the ocean. Microplastics, which form when larger pieces of plastic degrade, are even making their way into the seafood we eat. From entanglement to ingestion, marine debris has created a new anthropogenic threat to our oceans. Marine debris is garnering international attention. The United Nations Sustainable Development Goal 14: Life Below Water aims to, "By 2025, prevent and significantly reduce marine pollution of all kinds, in particular from land-based activities, including marine debris and nutrient pollution." Canada is beginning to take notice of this issue, banning microbeads at the beginning of 2018, but more work is needed to stem the tide of plastic pollution entering our oceans.
During his internship, Riley created a report that aimed to identify the global scale of marine debris for both macro and micro plastics, including major sources of pollutants and interactions between debris and wildlife. Statistics for Canada were highlighted, and a jurisdictional scan done to identify what levels of government have authority over specific types of pollutants. Riley provided an overview of actions being led to reduce marine debris globally, nationally and locally for Canada, including what actions are being led by other environmental organizations. The aim of this research was to identify areas where more attention is needed, highlighting what actions could be taken by WWF-Canada to tackle this issue.
Leah Sneddon, Master of Marine Management candidate
WWF-Canada Research Intern: Community Supported Marine Protection

Canada has commitments to protect 10 per cent of its ocean and coastal waters by 2020. While Canada currently has 7.75 per cent of its oceans protected in marine protected areas (MPAs) and other effective area-based conservation measures (OECMs), most of these protected sites are offshore and far from communities. Coastal areas, which tend to be of high use by many sectors, are also in need of protection, as they often contain sensitive spaces and species. Many coastal communities also rely on the use of the ocean, providing food, jobs, recreation and having importance to local cultural values.
The creation of new MPAs can cause concern in communities and amongst user groups about potential loss of income or restrictions from using the area in question. In Canada, MPA designations are mostly top-down processes that can be stopped or slowed due to community opposition, such as the perception that marine protection comes at the expense of local access and livelihoods. Understanding community values and supporting a bottom-up process to marine protection helps lead to equitable MPA establishment where those impacted have a say in MPA governance, monitoring and management.
WWF-Canada advocates for marine protection and planning and the sustainable use of marine resources. Community engagement underpins much of our work, and WWF partners with Indigenous and other coastal communities on all three coasts, integrating traditional and local knowledge into marine protection. Leah's research supported a bottom-up approach to marine protection on Canada's Pacific and Atlantic Coasts.
On the west coast, WWF-Canada signed an historic agreement in 2016 with the Gitga'at Nation in British Columbia to further shared goals of marine protection and community prosperity. Leah reviewed global examples of indigenous protection and governance which helped examine common areas of interest for marine protection in Gitga'at Territory and potential options for their conservation.
On the east coast, WWF-Canada is working to support a bottom-up process to MPA establishment with residents of the Eastern Shore of Nova Scotia. The waters off the Eastern Shore have been identified as an Area of Interest by Fisheries and Oceans Canada and has begun the designation process to become a MPA under the Oceans Act. Leah has been using this area as a case study to investigate collaborative governance and determine what barriers (social, economic, political and cultural) limit or can facilitate the application of a bottom-up management approach to coastal MPAs.