Current Interns
2019
Nadia Dalili, Master of Marine Management candidate
WWF-Canada Research Intern: Mitigating shipping impacts on at-risk whales: Lessons learned from Canada
Whales are not only at the top of the food chain with an important role in overall oceans health,  but their large size, charisma and mythical aura have made them an iconic group of species that have captivated people's attention for centuries. WWF-Canada has worked with many partners to establish voluntary measures and best practices to reduce the impacts of fishing and shipping on endangered whale populations. However, Canada has a poor track record in recovering species, with at-risk populations continuing to decline by an average of 28 per cent since the Species at Risk Act was introduced in 2002. A 2018 report from the Canadian federal environment commissioner heavily criticized the failure of the government to apply existing policies and tools to proactively manage threats to marine mammals from commercial fishing and marine vessels. While some whale species are showing signs of recovery, many remain at risk and are now facing increasing threats, such as underwater noise, ship strikes, entanglement with fishing gear, and changes to prey availability in response to a changing climate. New approaches and immediate action are needed to create a future where humans can live in harmony with these iconic species.
WWF-Canada, as part of its National Shipping Initiative, has set the goal to reduce ship strikes and underwater noise to at-risk whales in Canada. WWF-Canada is currently involved in a 3-year project focusing on stewardship of the marine industry for cetacean's conservation in the Northwest Atlantic Canada. As part of this project, WWF and partners will develop several tools to facilitate and improve an opportunistic whale data collection program for the industry. Participation in whale data collection is a requirement to achieve a higher level of compliance with Green Alliance underwater noise indicator and as such, involvement of the industry in data collection has drastically increased over the last few years. To support this initiative and provide recommendations to the program, Nadia's research focused on quantifying the use and value of opportunistic sightings data in the management and conservation of cetaceans in Canada.
Nadia conducted over a dozen of semi-structured interviews with academia, governments, and NGOs across the country to gather perspectives and quantify the value (when, where and for what purpose) opportunistic observations of cetaceans can support conservation and management decision making and similarly quantify their limitations of doing so.   
Priyanka Varkey, Master of Marine Management candidate
WWF-Canada Research Intern:Reducing Plastic Pollution in Nova Scotia
Mar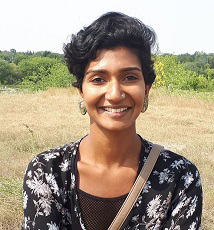 ine debris, specifically in the form of plastic pollution, is pervasive in the marine environment. It has been found on remote islands far from any human habitation, and at the greatest depths of the ocean. Microplastics, which form when larger pieces of plastic degrade, are even making their way into the seafood we eat. From entanglement to ingestion, marine debris has created a new anthropogenic threat to our oceans. Marine debris is garnering international attention. The United Nations Sustainable Development Goal 14: Life Below Water aims to, "By 2025, prevent and significantly reduce marine pollution of all kinds, in particular from land-based activities, including marine debris and nutrient pollution." Canada is beginning to take notice of this issue, banning microbeads at the beginning of 2018, but more work is needed to stem the tide of plastic pollution entering our oceans.
WWF-Canada's Nature Sans Plastic campaign aims to reduce the amount of plastic entering waterways through encouraging grassroots actions such as participating in Great Canadian Shoreline Cleanups, reducing personal plastic use, and advocating for other reductions. Following on a report created for WWF-Canada, strategies to reduce plastic pollution, such as bans, or voluntarily plastic reductions, have been identified, but there is a need to determine which would be best suited to local realities.
Working in collaboration with Coastal Action, the Clean Foundation, and the Business Improvement Districts of the Halifax Regional Municipality, Priyanka conducted outreach and gathered information to adapt the Ocean Friendly Nova Scotia initiative for Halifax. This tiered-certification system, developed by Coastal Action, recognizes businesses that have or are willing to eliminate three or more single-use plastic (SUP) items from their regular use. She conducted community surveys to gauge how interested Haligonians are in reducing their use of SUPS and if they would be more likely to support businesses participating in the Ocean Friendly Nova Scotia initiative. She also conducted surveys interviews with local businesses to determine their interest in the program and see what support they would need. The aim of the research is to support the adaptation of the Ocean Friendly Nova Scotia initiative in the Halifax Regional Municipality.   
Emily Vaniderstine Master of Marine Management candidate
WWF-Canada Research Intern: Opportunities and barriers to ecotourism in Marine Protected Areas in Nova Scotia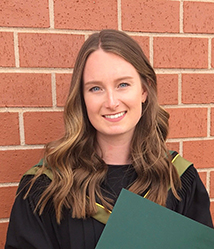 Around the world, significant investment has been made to create recreational opportunities, increase visitation and use, and enhance the benefits generated by protected areas, in particular through ecotourism. A 2017 report prepared by Gardner-Pinfold for Nova Scotia Environment on the Commercial Benefits of Nova Scotia's Protected Areas showed significant commercial and socioeconomic benefits from protected areas, including businesses offering services that directly use protected areas (such as kayak outfitters and hunting guides), or benefit from indirect relationships with protected areas, such as accommodations operators, hunting or fishing camps, educators, and non-profit organizations. Interviews with key stakeholders identified that having a protected area nearby created a positive investment climate, supported unique business models and generated business revenue through direct attraction of clients, and that these opportunities could be further enhanced. The report also highlighted barriers to the development of tourism associated with protected areas including lack of infrastructure; lack of public awareness of the importance and potential of protected areas; and perceptions that protection equates to limited use. It is important to note that this study only focused on the terrestrial environment.
Nova Scotia, "Canada's Ocean Playground", is looking to grow its tourism industry from $2.6 billion annually in 2016 to $4 billion annually by 2024. Initiatives such as the Wild Islands Tourism Advancement Partnership, aimed at increasing opportunities for nature-based tourism experiences in Nova Scotia, indicate the province's desire to expand tourism focused on the environment. With Canada committed to protecting at least 10% of its ocean and coastal areas by 2020, growth in the ecotourism industry could come through the creation of marine protected areas (MPAs).
Emily's research aimed at surveying Nova Scotia tourism operators and tourists' perceptions of marine protection in order to better understand how marine protection is perceived by the tourism sector and the factors, including naturalness, environmental, and protection designation, influencing tourists' decisions to visit an area or engage in particular ecotourism activities.