Post‑menopausal Pregnancy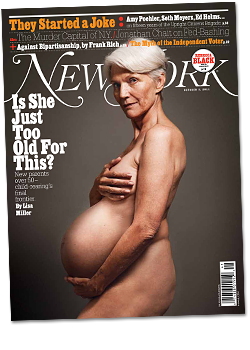 In March 2013, the Ethics Committee of the American Society for Reproductive Medicine updated its guidelines on post-menopausal pregnancy. Its earlier guidelines (2004) recommended that post-menopausal pregnancy be discouraged. In North America most women experience menopause at age 52. The new guidelines suggest that post-menopausal pregnancy should be an option for women between the ages of 50 and 54. According to Dr. Paula Amato, (a member of the Ethics Committee and co-author of the guidelines), the policy change was motivated by new, reassuring data on pregnancy in women over 50.
"In one report of 45 live births in healthy women aged 50-63 who established a pregnancy with donated eggs, 35% had pregnancy-induced hypertension, 20% had gestational diabetes, and 78% had a cesarean section. The risks were much higher in women over 55 years old, compared with those 50-54 years old. For example, the risk of pregnancy-induced hypertension was 26% in the 50-54 age group, but increased to 60% over 55 years of age." See full report [PDF - 121 KB].
It is difficult to see how these data are reassuring, however, when one compares these numbers to those available for healthy women aged 15-45 who establish a pregnancy without using reproductive technologies: 5-7% (not 35%) have pregnancy-induced hypertension, 3-4% (not 20%) have gestational diabetes, and 27-28% (not 78%) have a cesarean.
Upper Age Limits on IVF and 'Good' Mothers
Angel Petropanagos, Impact Ethics, March 31, 2015

Oocyte Donation - Aged Parents [PDF - 155 KB]
Françoise Baylis, The Mark, April 5, 2013
Should There Be an Age Limit for Fertility Treatments?
Maritime Morning, News 95.7, April 4, 2013
Change my Mind: Should There Be an Age Limit for Fertility Treatments?
The Blog, Huffington Post Canada, April 3, 2013
A Change in Thought on Having a Baby After "The Change?"
The Current CBC Radio One, March 27, 2013
Children at all Costs?
Françoise Baylis & Gillian Crozier, Bioethics Forum, February 18, 2009
Postmenopausal Reproduction: In Whose Interest? [PDF - 83 KB]
Françoise Baylis, G.K.D. Crozier, Journal of Obstetrics & Gynaecology Canada (2009) 31(5):457-458