Cannabinoids & Arthritis Pain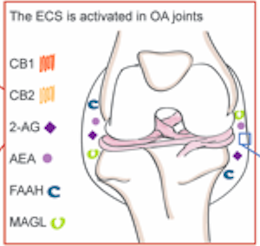 Medical cannabis has been proposed to be beneficial for the management of arthritis symptoms. The McDougall lab was the first to show that cannabinoid receptors (CB1 and CB2) are located on nerves in the joint and activation of CB1 can reduce osteoarthritis pain. We further discovered that CB1 agonists can reduce neurogenic inflammation.
Joints can also produce compounds with cannabis-like properties. These endocannabinoids are rapidly broken down by enzymes (fatty acid amide hydrolase, monoacylglyerol lipase) thereby limiting their physiological effectiveness. We found that inhibitors of these enzymes introduced locally into the joint can reduce pain and inflammation. 
Relevant Publications: