Fish-WIKS News
»
Go to news main
Hudson Bay Summit
Posted by
Lucia Fanning
on March 2, 2018 in
News
Lucia Fanning, Fish-WIKS Principal Investigator attended the Hudson Bay Summit, held in Montreal, Quebec on February 27 to March 1, 2018. Two posters from Fish-WIKS were accepted for display at the Summit. The first highlighted the work undertaken by Master of Marine Management student Erin Keenan on the incorporation of Inuit Knowledge (IQ) in narwhal management in Naujaat, Nunavut. The second poster focused on research conducted by Jessica Hurtubuise in support of PhD student Mirjam Wirz-Held. Jessica's research tracked the changing use of technology to harvest marine resources by Inuit over millennia.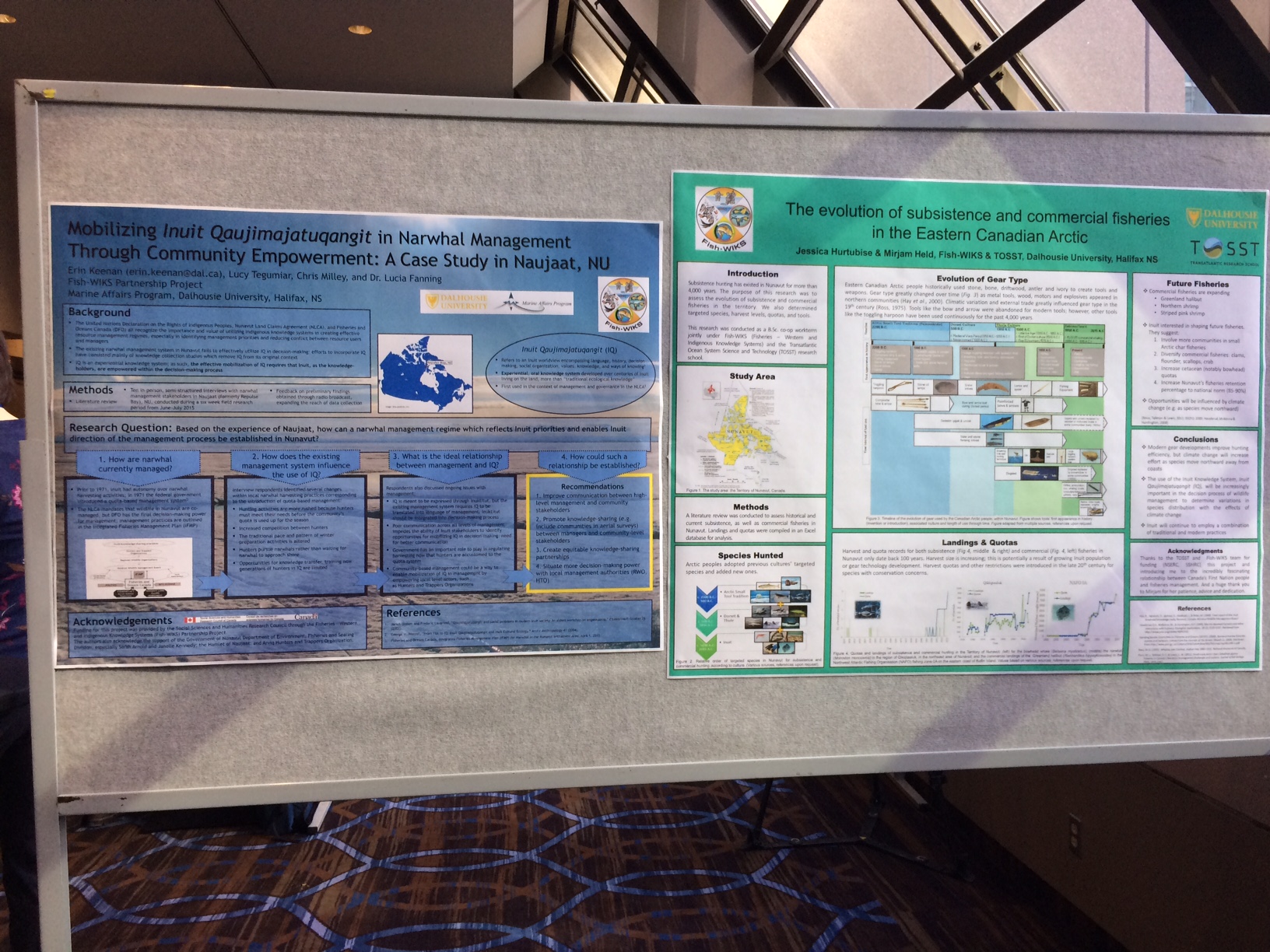 The Hudson Bay Summit was the culmination of a long history of efforts by communities, organizations and interested parties in the greater James Bay/Hudson Bay region towards sharing knowledge and coordinated environmental stewardship. The Summit brought together these groups to formally create the Hudson Bay Consortium and move forward on activities and outcomes for environmental stewardship including Communications, Protected Areas, Coastal Restoration and Environmental Monitoring.
The Summit built on momentum by a recently established East Hudson Bay/James Bay Regional Roundtable and ongoing successes of the Western Hudson Bay Roundtable, and brought these groups together to consider the Hudson Bay/James Bay region as a whole. Additional details on the history of background efforts, previous meetings and details on the approach of the Hudson Bay Consortium can be found on our website here: hudsonbayconsortium.com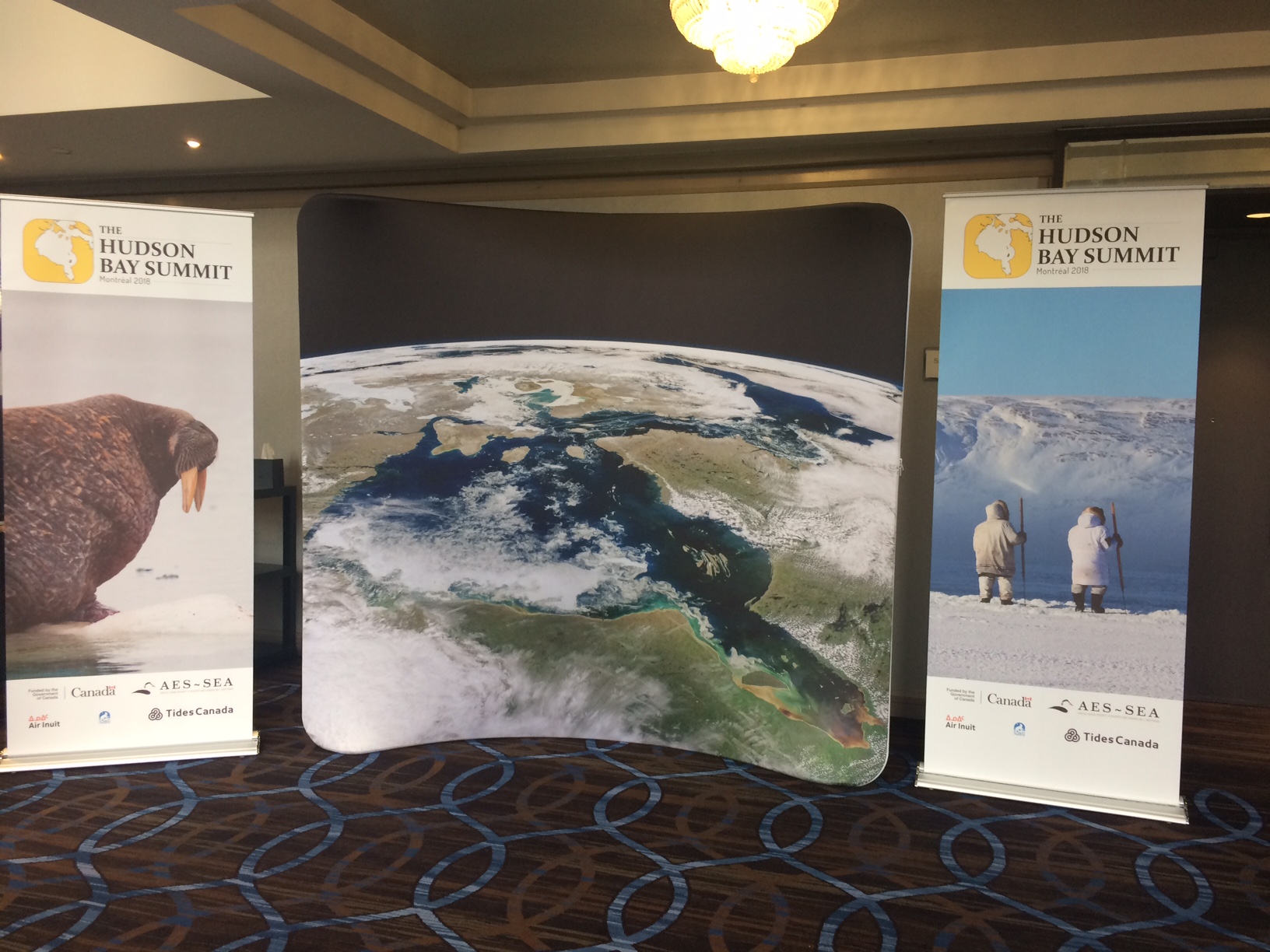 Over the three days, the Summit focused on a variety of cross-cutting themes and priorities relevant to Indigenous communities, with a focus on Indigenous-first approaches related to environmental stewardship, sustainable development, and community well-being. This includes protected areas and coastal restoration, community-driven research and monitoring, communications, Indigenous knowledge, education, and working together across the complex jurisdictional landscape ofthe region.
Of particular importance to Fish-WIKS and our Government of Nunavut partner was the workshop on coastal restoration which focused on identifying key changes in coastal environments, sources of impacts on fish, molluscs and marine mammals, and developing and implementing coastal restoration plans to mitigate impacts, as well as follow-up monitoring and maintenance. This workshop provided initial insight on key community priorities for coastal issues and restoration across the greater James Bay and Hudson Bay region. The outcomes from the workshop are expected to help develop next steps for local coastal restoration planning, develop proposals for coastal restoration funding, and coordinating among communities and jurisdictions on coastal issues. Linkages from coastal restoration to long term stewardship through establishing protected areas at restoration sites was also explored.
The outcomes of the overall Summit were identified as:
▪    Formally establish the Hudson Bay Consortium through signing of Terms of Reference
▪    Deliver a report on priorities for coordination of protected areas efforts across jurisdictions
▪    Deliver a report on issues affecting coastal ecosystems and priorities for restoration
▪    Deliver a report on regional priorities for community-driven research and monitoring of climate and environmental change indicators
▪    Establish Consortium working groups on key themes
▪    Raise public awareness on the importance of the greater Hudson Bay / James Bay region
▪    Delivery of a working document on priorities and next steps for the Hudson Bay Consortium
▪    Improve networking, communications and access to reports and information of ongoing activities throughout the Greater Hudson Bay / James Bay region