Fish-WIKS News
»
Go to news main
Arctic PhD Student Presents Paper in Greenland
Posted by
Laura Addicott
on October 5, 2015 in
Students
In September 2015, Arctic PhD student Mirjam Held travelled to Greenland to present a paper at an international conference on Indigenous Resources: Decolonization and Development . Her presentation, entitled Possible scenarios of how devolution will affect wildlife co-management in Nunavut, Canada, based on the experience in Yukon and the Northwest Territories, was very well received.
Apart from an eclectic group of delegates, a wide variety of topics presented as well as inspiring and thought-provoking discussions, Mirjam enjoyed the spectacular landscape around Nuuk, particularly the endless streams of icebergs floating by and the picturesque backdrop of snow-kissed mountains. In addition, she was impressed with the big-city feel of Nuuk (there are no such things as public transportation, red lights, pedestrian zones or high-risers in Nunavut) and the generally high standard of living.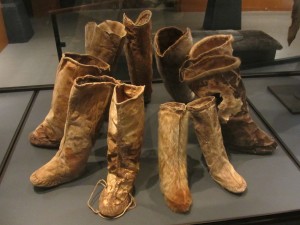 (Traditional sealskin boots at the Greenland National Museum)
With regard to Indigenous governance, however, the issues in Greenland and Nunavut are identical, despite the very different historical developments. Just as in the Canadian North, the main grievances of the Greenlandic Inuit are the loss of culture, the fact that the self-government (in place since 2009, the preceding Home Rule since 1979) is still in essence a copy of the previous colonial administration and thus a western approach to government, and the lack of Inuit ways of thinking and knowing in the education, political and economic systems.
Mirjam is very grateful for the opportunity to explore first-hand some of the differences and similarities between Nunavut and Greenland regarding indigenous livelihoods and struggles. She would like to thank the TOSST Research School, the Faculty of Graduate Studies and the Dalhousie Student Union for providing her with student travel grants.