Master's Students

Lisa Blenkinsop (Ontario) completed a B.Sc. in Biological Science at the University of Guelph, and has worked in the field of International Education for over 10 years. Lisa is a part-time Master's of Capacity Development and Extension (CDE) student at the University of Guelph. Lisa began the CDE program, which focuses on social change and social justice in rural and remote communities, due to her interest in indigenous food sovereignty and involvement in local food security initiatives in Guelph.  Lisa's thesis co-advisor is Dr. Jeji Varghese and she is honoured to be given the opportunity to collaborate with Nipissing First Nation for her research thesis. Lisa is interested in the intergenerational transfer of indigenous knowledge, the opportunities and barriers to knowledge transfer within indigenous communities and how knowledge transfer connects to fisheries management. She looks forward to working with Nipissing First Nation and the Fish-WIKS team.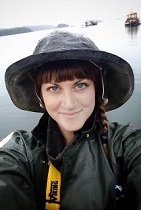 Born on the east coast but raised on the west, Alisha Gauvreau (BC) has a strong connection to Canada's coastal systems. After completing her degree in Anthropology at Laurentian University she came to SFU in order to specialize in the archaeology of the Northwest Coast. At SFU she acquired a Certificate in Cultural Resource Management and has worked as a professional archaeologist on the Northwest Coast of BC since 2010. Building on her professional experience in CRM, Alisha completed her Masters degree at SFU in the Department of Resource and Environmental Management in 2015. Her research focused on weaving together archaeological, oral historical, and archival data to document aspects of Heiltsuk First Nation Pacific herring management strategies for the Central Coast, BC. The aim of her research is to highlight how herring management has developed and changed historically. Alisha's work with the Fish-WIKS network builds on her current studies through a collaboration with the Tla-o-qui-aht First Nation.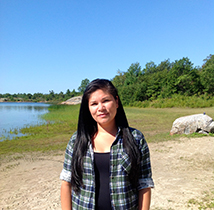 Amber Giles (Nova Scotia) graduated with a Master of Marine Management from Dalhousie University in May 2015.  She previously graduated from the University of New Brunswick with a Bachelor of Science degree in Biology. While at the University of New Brunswick she completed the Marine Block Program – an intensive Marine Biology program offered through a blend of lecture, laboratory and field instruction. Belonging to both the Maliseet and Mi'kmaq Nations, she brings a unique blend of Indigenous and Western perspectives to her research.  Amber is interested in ways that Indigenous knowledge systems can enrich the management of fisheries and the promotion of sustainable ecosystems.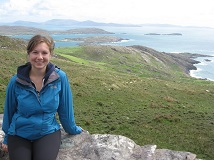 Erin Keenan (Nunavut) grew up in Toronto and completed her BAH at Queen's University in environmental studies and global development studies. In combining these two areas, she became interested in the relationship between Indigenous knowledge systems and environmental management. During her studies in the Marine Affairs program at Dalhousie University, Erin linked this interest to environmental sustainability and marine management in coastal communities.  Her research focussed on the community of Naujaat, Nunavut.  Erin graduated in 2016 with a Master of Marine Management from Dalhousie University and is now working with the Government of Nunavut in Iqaluit.