The Canadian Navy and the New Security Agenda: Proceedings of the Maritime Security and Defence Seminar 2004
Edited by Dr. David Charters and Graham F. Walker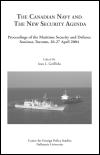 July 2004
Book flyer
ISBN 978-1-896440-45-2
$10.00 CDN (plus S&H)
Where previous affairs have been wide-ranging and generally open to the interested public, this high level examination into the role and needs of Canada's Navy in the post-September 11th world was a strictly focused and detailed strategic planning seminar, undertaken by participants that attended by invitation only. The seminar's purpose was two fold: 1) to determine whether or not the concepts espoused by Leadmark, the Navy's response to the challenges of implementing Strategy 2020, still provide a sound foundation upon which to build strategic plans; and 2) to solicit expert opinion and dialogue on what the navy of the future should look like and what the demands and influences upon that navy will be.
The seminar began its deliberations by examining the new security environment in which the navy of today finds itself. We are now faced with a milieu in which traditional boundaries associated with "security" and "defence" have not only blurred, but have in fact merged, demanding the navy find direction from "international policy" which has roots in both defence and security. The demands of this new environment requires the navy to move beyond linear thinking and adapt agility and flexibility in planning when providing capability options for the future by embracing "joint inter-agency models." Thus the navy must develop strategies and capabilities that support both domestic and security realities in the government's diplomacy, development and defence framework, balancing between each as required.
From the basis of this new environment, the seminar went on to address central questions of national and naval planning as; did the attacks of 9/11 change the future security environment in ways unforeseen by Leadmark; does Leadmark adequately account for the navy's role in ensuring maritime security, defence of North America and relationship with the U.S.A.; was Canadian command of coalition forces in the war against terror a useful contribution; what are the national imperatives that affect the navy and what should its priorities be; what capabilities will the navy of the future need to possess; and how much is enough?
The Canadian Navy and the New Security Agenda provides insight and intelligent analysis of these crucial questions.
Please contact the centre to purchase a copy.