2023 Glyn Berry Lecture: Prof. Jason Lyall, "Development Aid in Dangerous Places"
As part of the series of events commemorating the life and work of Canadian ambassador Glyn Berry, the Department of Political Science and the Centre for the Study of Security and Development will be hosting a lecture by guest speaker Professor Jason Lyall.
Prof. Lyall's talk, "Development Aid in Dangerous Places: Lessons from Afghanistan," will reflect on his experience as a Technical Adviser for USAID's Measuring the Impact of Stabilization Initiatives (MISTI) project, and subsequent research on counter-insurgency and post-conflict reconstruction in Afghanistan over the last 10 years. You can get more info about Prof. Lyall from his bio page here (https://govt.dartmouth.edu/people/jason-lyall-0) and his award-winning 2020 book, Divided Armies, here (https://press.princeton.edu/books/hardcover/9780691192437/divided-armies).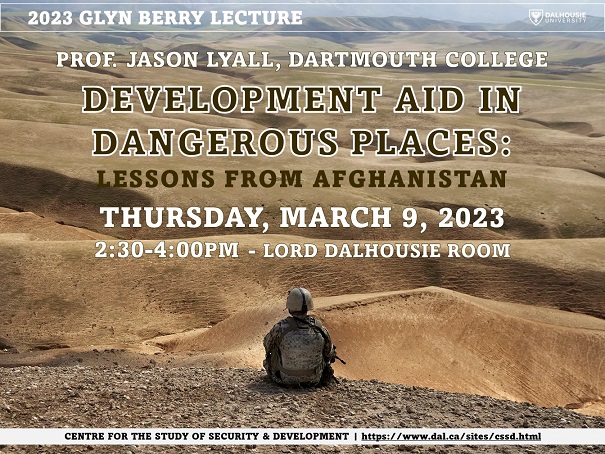 Time
Starts:
Ends:
Location
Dalhousie University
6299 South Street,
Henry Hicks Administration Building
RM 141, Lord Dalhousie Room

Cost
Free and open to the public.

Additional Information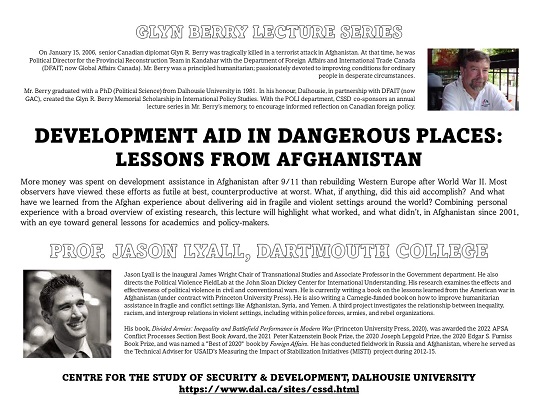 Contact
For more information, please contact:
Mary Okwese
Administrative Secretary
Centre for the Study of Security and Development (CSSD)
T: 902.494.3769 | centre@dal.ca
www.dal.ca/cssd
2023 Glyn Berry Lecture: Prof. Jason Lyall, "Development Aid in Dangerous Places"