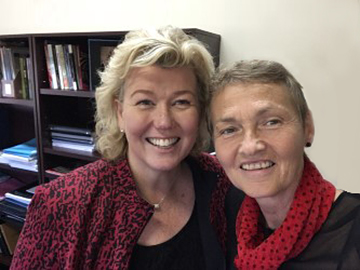 Are We Training Leaders?
Leaders guide and inspire people and organizations. Leaders listen, question, analyze, envision, and strategize. Ultimately, leaders make decisions with a view to leading change and enhancing the organization while caring for its people. Leadership is critical to organizations and leadership is critical to physiotherapy. So, are Canadian physiotherapy schools expected to graduate students with leadership skills? 
The answer is 'no', if you consider that the explicit physiotherapy curriculum is set up to ensure that Canadian graduates can fulfill the following seven roles: expert clinician, communicator, collaborator, manager, advocate, scholarly practitioner and professional (Essential Competency Profile for Physiotherapists in Canada, 2009). However, the answer is 'yes' if you consider the implicit curriculum.

The implicit, or hidden, curriculum is comprised of the lessons which are informally and often unintentionally taught in schools. And leadership is one of those lessons hidden in our Dalhousie Physiotherapy curriculum. We know we graduate great leaders. For example, Dr. Alice Aiken, our new Dean of Health Professions, is a 1994 BScPT graduate of Dalhousie (Welcome, Alice). So where is our hidden leadership curriculum?
Our students play leadership roles as team captains, school council leaders, coaches, and community volunteers. Student leaders with varied talents, such as fund raising, stage direction, writing, talent development, etc., have created a string of repeat victories for Physiotherapy in the Faculty of Health Professions annual fundraiser, "For the Health of It".  In class, students are required to assume leadership in a variety of roles in their tutorials and research projects. In most courses, they create and deliver presentations, where they are judged on their ability to communicate effectively and confidently. And, students learn by observation, watching their professor's and Clinical Instructor's leadership styles.
All this is fine, but can we do more to make leadership lessons more explicit? What roles could students play? What roles can Faculty, Clinical Supervisors, and employers play?  Students looking for successful leadership strategies can begin with the Student Leadership Challenge and learn how to follow exemplary leaders (on-line, biographies, email questions). Students can also start a personal leadership journal; ask for feedback on their current leadership role; or bring together like-minded students to enhance their leadership skills. But all these strategies assume the student has an interest in leadership. 
Faculty, Clinical Instructors and employers first need to instil leadership bugs in all students and graduates, perhaps through leadership-specific PT Matters presentations, or by creating leadership shadowing opportunities, or by encouraging clinical placement opportunities with exemplary PT leaders. Once infected with the leadership bug, students then need to be recognized and mentored. Once graduated, students can look to the Canadian Physiotherapy Association, which is developing leadership initiatives.
We all have roles to play in fostering leaders in physiotherapy. We can all start by helping young learners and young clinicians to overcome what the literature identifies as the greatest barrier to stepping up to lead: a fear of not being good enough and failing in the role. I am interested in hearing your ideas on how the School of Physiotherapy can cultivate and nourish great physiotherapy leaders.