Winter 2017 Alumni Profile
Captain (retired) Sarah Gaudry with former CAF patient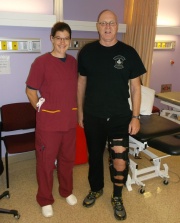 "The inspiring dedication and hard work these members put into their recoveries and rehabilitation - be it traumatic amputations, severe brain injuries, terminal cancer, spinal cord injuries – has truly changed the way I see my role as a therapist and I am forever grateful for the motivation and opportunities for the personal growth they provided me."
In each issue of the School of Physiotherapy's PT Matters Newsletter we highlight the professional career of one of our graduates. In this issue, we are very pleased to feature the achievements of retired Captain Sarah Gaudry.

Sarah joined the Canadian Forces following High School graduation and completed her BSc-Kin at Dalhousie through the Regular Officer Training Plan (ROTP). From there she took Air Traffic Control and Nav Canada Training in Cornwall Ontario. And in 2002 Sarah was posted to 4 Wing Cold Lake, Alberta, where she supported the Fighter jet program by controlling aircraft in the tower and radar unit.
In 2008, Sarah was sponsored to return to Dalhousie to complete the MScPT program and switched trades to become a Physiotherapy Officer.  Since graduating from the MSc Physiotherapy program in 2010 (winning seven graduate awards), Sarah was posted to 14 Wing Greenwood, 12 Wing Shearwater and CFB Stadacona where she worked as Team Lead, 2IC, Rehabilitation Physiotherapist and Physiotherapy Officer treating Neuromusculoskeletal, sports and work related injuries.
For her work, Sarah has been honoured with The Surgeon General's Clinical Coin, which recognizes her "for establishing Canadian Forces Health Services (Atlantic) as a centre of excellence for the Canadian Forces Health Services Rehabilitation Program and providing guidance and care to patients that far exceeds the expectations of a Rehabilitation Physiotherapist". Sarah shares that being presented with the Coin, following her retirement from the Canadian Armed Forces (CAF) in July 2016, was "a humbling honour for myself and my family".  
Sarah served injured members of the CAF by developing a network of Atlantic Region medical and rehabilitation professionals, continuously expanding her knowledge to assess complex needs, and providing one on one care through the CAF Rehabilitation Program.  She feels that supporting ill and injured CAF members during their recoveries and transitions was a privilege - one that she will always cherish.
"The inspiring dedication and hard work these members put into their recoveries and rehabilitation - be it traumatic amputations, severe brain injuries, terminal cancer, spinal cord injuries – has truly changed the way I see my role as a therapist and I am forever grateful for the motivation and opportunities for the personal growth they provided me."
Since leaving the air force, Sarah is now treating complex cases as a clinician in private practice. Sarah also finds the time to share her wealth of knowledge and experience with our Dalhousie MSc Physiotherapy students in the capacity of a Neurotherapeutics (and integrated practice) Laboratory instructor.
In the spirit of giving back, Sarah expresses, "I can only hope that I am able to pass along some inspiring stories of amazing patients, and of my personal clinical experiences gained through my time as a military Physiotherapist, to our students".
We, at the School of Physiotherapy can confirm that she is doing just that, and despite Sarah's shyness of recognition, we would like to congratulate her for her significant contribution to the Physiotherapy community.