Alumni Profile: Kim Furlong, MScPT, BScPT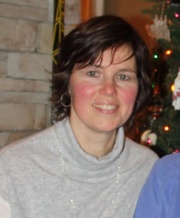 "Find an area in physiotherapy that you are passionate about because when a career and a passion come together you have a dream job."
By: Jocelyn Adams, Communications & Special Projects Assistant

The Dalhousie School of Physiotherapy has outstanding alumni who continue to make significant contributions to our profession and communities. This season, the School is excited to feature Newfoundland's Kim Furlong from the Physiotherapy Class of 1988. Currently, Kim works as the Physiotherapy Clinical Education Coordinator at Memorial University and practices at Dynamic Physiotherapy in St. John's, Newfoundland. Outside of her positions, she continues to be an active alumnus with the Dalhousie's School of Physiotherapy.

Kim applied to the Dalhousie Physiotherapy program while attending Memorial University. At that time, Newfoundland provided residents with bursaries for students attending Dalhousie's Physiotherapy programand she would be guaranteed a position after she graduated. "When I asked my father if I could go to Dalhousie to study physiotherapy and he couldn't really say no. I provided proof that the Newfoundland government would pay for the program and I would have a job when I returned.  It wasn't until my first year at Dalhousie, while volunteering with the former Director of the School, Dr. Lydia Makrides, that I realized I had made the right choice, said Kim."
In 1988, Kim graduated from Dalhousie's physiotherapy program and has been practicing in St. John's for nearly thirty years.
Today, the most exciting part of her position is working as a team with patients and health care professions. The most challenging aspect is staying up-to-date on the latest research.

Over her career she has witnessed significant changes within the profession. "Physiotherapists can be found working in schools, government, industry, community agencies and many areas of the public and private sector. Emerging physiotherapy roles are being created every day. There have also been significant changes in evidence and resource availability. If you ask a practice question to a world-renowned expert, you can hear from them the next day. There have been huge strides in technology," said Kim.

As an experienced alumnus, Kim provides advice to new physiotherapy grads. "Find an area in physiotherapy that you are passionate about because when a career and a passion come together you have a dream job," said Kim.

Kim shares the following valuable lessons she's learned in her career. First, the power of exercise; second, do not underestimate the healing strength of a physiotherapist; third, it's just as important to know a person, as it is to know their disease; forth, that success breeds success, and lastly, not to limit yourself or your patients.
Kim's goal is to continue to build physiotherapy roles across Newfoundland. "Our province has the lowest number of physiotherapists per capita than any other province in Canada. Students bring energy, new knowledge, service and profile the profession to our community. My second goal is to increase awareness about vertigo rehabilitation," said Kim.

Looking to the future, she hopes physiotherapy services can be accessed worldwide. "My dream is for physiotherapists to continue to expand the provision of our services to every man, women and child around the world."