Spring 2017 Alumni Profile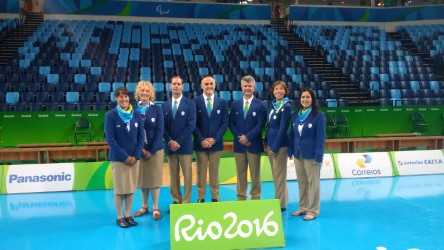 Paul Easton with his physiotherapy colleagues at the Rio 2016 Paralympics.

The Dalhousie School of Physiotherapy has exceptional alumni who make meaningful contributions to our communities and to the physiotherapy profession as a whole. This season, the School is thrilled to feature Paul Easton from the Physiotherapy Class of 2003.
Paul has kept busy since graduating from Dalhousie's BScPT program. While building his physiotherapy career, Paul decided to offer his spare time to the Canadian Armed Forces Reserves as a Health Care Administration Officer. In 2012, Paul was awarded the Queens Diamond Jubilee Medal for his work with the reserves and volunteer initiatives with adaptive sport in Canada. In 2016, filling the role of Company Commander for 33 Field Ambulance in Halifax, Paul was deployed for a time to Northern Alaska to deliver health care services to their most remote villages. 2016 proved to be a busy year for Paul in that he also graduated with his MSc Disaster Medicine from Brussels University and served at the Rio 2016 Paralympics.
Paul currently works as a Health Service Manager with the Nova Scotia Health Authority located at the Cobequid Community Health Centre. There, he oversees the daily operations and program development for a number of services including physiotherapy, occupational therapy, respiratory therapy, endoscopy, urology and many other ambulatory care clinics.
Paul works closely with clinicians, patients and family members to ensure quality patient care is delivered on site. He also works with an interdisciplinary team maintaining and developing the range of programs being offered, to ensure that they are meeting or exceeding the various standards for care delivery.

 "I find this very rewarding as I have an opportunity to make positive changes to the patient care experience on a daily basis. I am also able to be fully informed on what is happening within the various professions and share this with the staff at the Centre", Paul explains.
Paul's interest in physiotherapy started during his kinesiology degree at Dalhousie when he was completing an assignment on adaptive sport and working with a group out of the Nova Scotia Rehabilitation Centre (NSRC). He was learning about the many different Musculoskeletal and Neurological conditions and felt this was where he needed to be. This is where Paul gained his passion for adaptive sport and started working with local, then national and most recently international groups in parasport.
In pursuit of his passion, Paul began volunteering with the local wheelchair rugby team in 1998. Ron Wheeler, the organizer at the time, informed Paul that this sport would take him places - and so it did. Working through the certification processes for assessing and evaluating athletes for adaptive sport at national and internationals levels, Paul attended dozens of workshops and tournaments which enabled him to develop a great network of physiotherapy colleagues within the parasport community. The volunteer work took Paul to places in South America, Europe, Scandinavia, Africa and Asia and most recently earned him a place as a technical official (physiotherapist) at the Rio 2016 Paralympics.
Being involved with the International Paralympic Committee gave Paul a unique perspective on the care and standards provided at such a venue, he also used the opportunity to discuss current trends and techniques with his physiotherapy colleagues from all parts of the world. In Paul's words, "With the assessment of athletes in adaptive sport, I have been able to contribute to research activities through the International Paralympic Committee, review policies governing paralympic sport, tour health care facilities in more than a dozen countries but above all, it has provided me a group of colleagues that continue to share their knowledge and insight into the profession of Physiotherapy."
Working with the athletes was particularly inspiring for Paul. "Every story and every challenge these athletes have faced is unique and has helped me develop as a person and therapist. I am able to look at challenges with a different perspective and carry that forward with me in many aspects of life. " Paul goes on to say, "At Rio, there were over 5000 athletes with such a wide variety of conditions and equipment. The opportunity to learn from this experience was humbling and overwhelming at times." Paul admits that as a therapist, it doesn't matter if you are at a local clinic or on the world stage, there is nothing like helping someone reach their goals. As he learned, "goals are attainable, with proper motivation, hard work and a plan in place, you can achieve great things."
When asked what he would like to pass along to future physiotherapist graduates, Paul states that, "you can make a positive change and you have chosen a great profession to do this in. Physiotherapy is a fantastic profession with endless possibilities. Never be afraid to ask questions or set goals, you never know where it will lead you."
As Paul sees it, people from all walks of life have the ability to make change in the world, "we just need to follow our passions to make it happen." A whole world of possibilities opened up when he followed his passion and in so doing he was able to help athletes, who did not have a sport to play, see greater potential in themselves and achieve what previously seemed unattainable. In his own words, "I will be forever indebted for all that adaptive sport has given me personally and professionally."