Spring 2016 Alumni Profile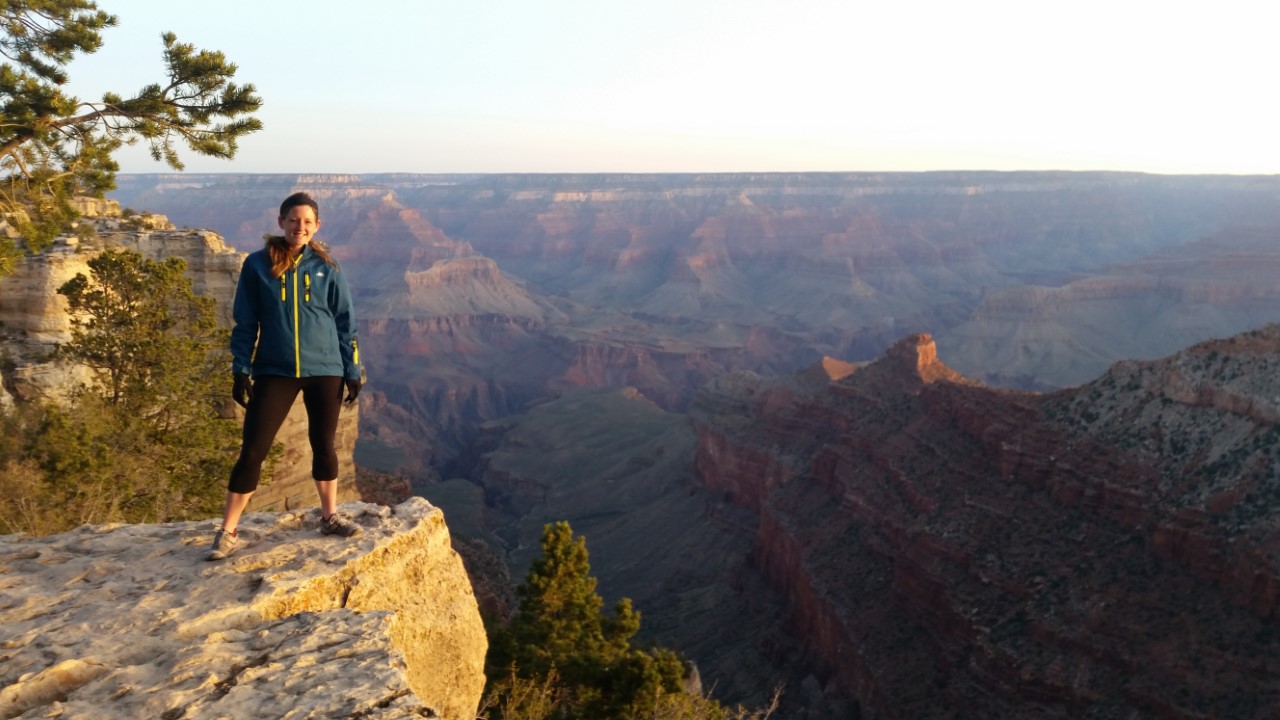 Richelle (Paine) Weeks in Arizona on a spring 2015 cycling trip.

By: Jocelyn Adams, Communications & Special Projects Assistant

Each season, the School of Physiotherapy highlights the professional careers of our graduates. This season,  the School is proud to feature Richelle (Paine) Weeks, an alumna from the Dalhousie Physiotherapy Class of 2009.  Today, Richelle works in Goose Bay (Labrador) as a Physiotherapist and Clinical Instructor at the Labrador Health Centre.

Richelle's passion to pursue a career in physiotherapy emerged from an early age.  Her interest in the profession began following a friend's soccer injury in grade 7 which sparked an interest in her studies. "I was very interested in human anatomy and sports injuries through high school."
When studying Kinesiology at Memorial University of Newfoundland, Richelle worked at a private clinic and in the hospital. Her clinical work helped her fall in love with the profession. "I watched stroke patients learn to walk again, I saw back pain patients come in reporting improved pain levels, I saw people with knee injuries get back to playing their sports. It seemed like such a rewarding career," said Richelle.
After completing her studies in Kinesiology she embarked on her physiotherapy degree from Dalhousie.
Following graduation, Richelle returned to Newfoundland & Labrador. Today, she works in a rural hospital in Goose Bay, Labrador. "Definitely my favourite aspect of this job is the variety of patients I get to treat. In one day I may see an elderly patient who's had a recent stroke, a child who's been diagnosed with cerebral palsy and a young adult who's torn their ACL playing basketball," said Richelle.

Her physiotherapy job keeps her on her toes. "I never get bored or complain of monotony here. I think this is one reason our hospital can provide a fantastic work term experience for physiotherapy students," explains Richelle.

One of the most unique but challenging aspects of her job is treating patients from the coastal communities. Labrador is over 300,000 square kilometers, with a population of under 30,000. There are many small northern communities with only a couple hundred people living in them. Most of these northern communities can only be accessed by boat, snowmobile or plane. Richelle and her team try to visit each northern community once a year to run a physiotherapy clinic. These clinics can be quite challenging because they're often getting one session with a patient to assess and sort out a treatment plan. Patients don't get follow-up visits for a full year so physiotherapists have to do as much as they can for patients in one session.  In the winter months many people in these communities use snowmobiles to get around and often need to collect their own firewood and sometimes even water, which can certainly make things difficult when you're trying to treat conditions like chronic back pain. 
Besides practicing physiotherapy, she continues to give back to her community. "Since moving home I have started fitness classes and I volunteer coaching the half marathon clinics every spring and summer. Physiotherapists have a wealth of knowledge when it comes to exercising properly and living a healthy lifestyle.  It can be extremely rewarding to give back to your community and make it a healthier place to live," said Richelle.
Amongst her clinical and community work, she continues to give back to the Dalhousie School of Physiotherapy program. As a recent graduate, Richelle is a Clinical Instructor with the program and takes entry-level-practice physiotherapy students each year to experience the benefits of working in a rural community.
For physio students, there are many benefits of doing a clinical placement in Labrador. "Students can expect to see a wide variety of patients when they spend six weeks with us. This hospital is ideal for the interdisciplinary practice work term as they can see a mixture of orthopaedic, cardiorespiratory, neuro, paediatric and geriatric patients."
A clinical placement in Labrador can be a unique experience.  Richelle concludes, "We fly on a small twin otter plane with just 16 seats and land on a gravel runway in Northern Labrador. In the winter time, we're greeted by the hospital staff who pick us up on snowmobiles. A short ski-doo ride to the clinic and we try to see as many people as possible while we are there. The community clinics and patients very much appreciate these visits."