Azadeh
Kermanshahi-pour
Professor, PhD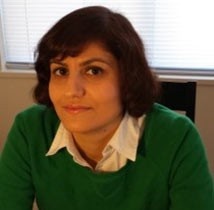 Email:
Azadeh.Kermanshahipour@dal.ca
Phone:
902-494-6076
Fax:
n/a
Mailing Address:
Department of Process Engineering and Applied Science Dalhousie University PO 15000, Halifax, Nova Scotia Canada B3H 4R2

Research Topics:
Integrated biorefinery
Anaerobic digestion
Bioenergy
Natural products extraction
Supercritical fluids as solvents and reaction media
Biodegradation pathway of contaminants
Bioremediation of contaminants
EDUCATION:
BSc    Ferdowsi University of Mashhad
MSc    Western University
PhD    McGill University
PDF    Yale University

RESEARCH INTERESTS:
My research is centered on derivation of bioenergy and value-added chemicals from renewable resources within an integrated biorefinery.  My focus area also extends to the development of green extraction processes using supercritical fluids. Anaerobic digestion, bioremediation and identification of biodegradation pathway of chemicals in the environment are my other area of research interests. 
OFFICE HOURS AND LOCATION:
By appointment, Room 2224, Chemical Engineering Building, Sexton Campus
GOOGLE SCHOLAR CITATIONS: