News
»
Go to news main
1,000 and Counting
Posted by
Faculty of Open Learning & Career Development
on February 1, 2023 in
News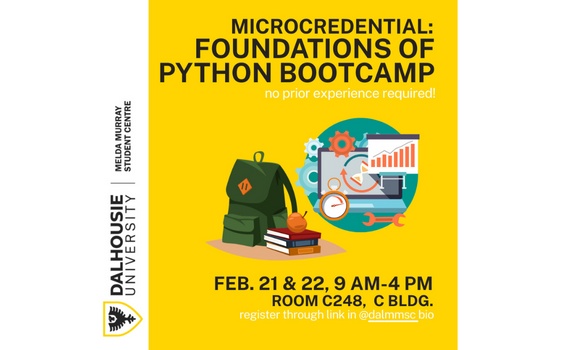 Last Fall, the Faculty of Open Learning and Career Development (FOLCD) announced that they had issued 1,000 Dalhousie Microcredentials since the launch of their microcredentialing initiative in early 2020.

Dalhousie was one of the first universities in Nova Scotia to explore microcredentials, which recognizes specific skills or competencies that are relevant to employment and come in the form of a digital badge that can be shared across digital platforms. FOLCD has now seen more faculties at Dal reach out this past year to develop microcredentials including the Faculties of Agriculture, Engineering, and Medicine, as well as the Environmental Safety Office and the Office of Innovation & Entrepreneurship.

Dalhousie's Faculty of Engineering found that students entering the third year of their Industrial Engineering degree could highly benefit from additional training in computer programming languages such as Python.

"I know that universities such as Waterloo offer microcredentials, and Dalhousie students were potentially losing out on co-op jobs to other university students who have a more padded resume," says Aaron MacNeil, an Engineering Technician within the Faculty's Department of Industrial Engineering.

The Faculty has now offered four separate microcredentialed bootcamps in Python to its students, two of those in collaboration with the Melda Murray Student Centre. The successful learning experiences attracted undergrad students from first year to fifth year and is only the start of the Faculty's plan to foster modern engineers who are equipped to become bold leaders in society.
Over the next year, the Faculty of Engineering is hoping to increase the number of Dal Microcredentials offered to its students.

"We are looking at having a series of workshops for students that are going to build on some of the professional skills that they'll need," says Dr. John Newhook, Dean of the Faculty of Engineering. "This is part of a whole program that we're trying to develop around building leaders and providing opportunities for students to develop professional skills that better prepare them for industry."

As the number of Dal Microcredentials continue to grow, so do the types of learning experiences. Microcredentials may be earned through bootcamps, workshops, or modules, online or in-person, or courses that stack into professional certificates allowing learners to take the time they need to pursue their lifelong learning goals. Each learning experience is designed to build confidence in learners to both demonstrate and communicate their skills, while enabling them to build unique professional portfolios that complement their educational achievements to date and highlight their skills across different sectors or interests.
The Faculty of Engineering's next Python Workshop is scheduled for February 21st and 22nd.   Register Here

For more information on microcredentials click here or contact us at micro@dal.ca.