News
»
Go to news main
MICHELIN CONTRIBUTES $500K TO IDEA PROJECT
Posted by
Ryan McNutt
on March 2, 2017 in
News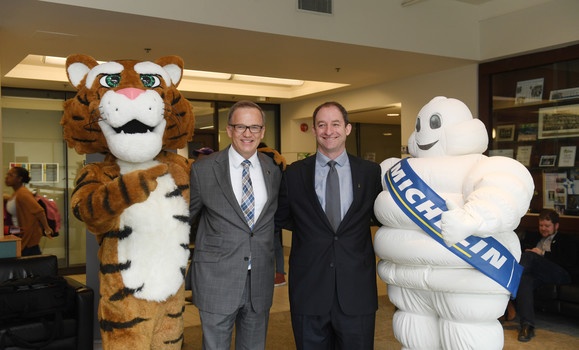 Michelin is the largest private employer in Nova Scotia — and that means you'll find lots of Dal graduates in its workforce.

Among the Michelin North America (Canada)'s senior management staff, for example, you'll find more than 60 Dalhousie Engineering alumni — including Jeff MacLean, its president. And the company more broadly has been a dedicated partner with Dal's Faculty of Engineering for almost four decades, helping support co-op, research and employment opportunities for students and graduates.

"Every day, Dalhousie engineering graduates bring their skills and leadership to our business," said MacLean, who referred to Dal's graduates as "the best in the world."
"As an alumnus and a previous co-op student, I benefitted from Dalhousie and Michelin's partnership and work experience as I completed my Engineering studies," he added.
"As a global business leader, I cannot stress the importance of having Dalhousie here... Dalhousie engineers allow us to not only compete, but we exceed in the world."
An investment in new student spaces

Thursday afternoon, MacLean was on campus to join Dal President Richard Florizone and others to announce his company's $500,000 investment in the university's IDEA Project, a $64-million revitalization of Sexton Campus.

The funding will go towards the Michelin Creation Lab, a new state-of-the-art engineering machine shop that will enable larger projects, greater precision and program expansion.  

"I am confident that this donation will enrich the engineering experience for students at Dalhousie who will benefit from this new lab and through this very exciting IDEA Project," said MacLean.

The announcement event took place as excavators were visible out the windows of the Alumni Lounge, making way for the IDEA Project's construction. 
It also took place the same day as a Michelin recruitment event on campus, at which current students were able to chat with MacLean and local plant managers to learn more about opportunities with with the company. Michelin is seeking to fill a number of upcoming engineering positions at their operation sites across the province. (The company has already hired four students from this year's Engineering class to begin working with the company after graduation in May.)

President Florizone thanked MacLean and Michelin for the donation, celebrating the university/industry partnership as one that aligns well with the Faculty of Engineering's strong focus on developing practical engineers through experiential, hands-on learning.

"It's the support of companies like Michelin that gives our students the tools and opportunities they need to build on their skills and continue to build innovation here in our region as we reinvent our downtown campus," said Dr. Florizone.
Supporting the next generation of engineers

Michelin employee Kelsey Baker also spoke at the event. An engineer with the company, she completed her Dal Industrial Engineering degree last year, joining Michelin's Waterville facility in the Annapolis Valley just nine days after graduation. She was first exposed to the company during a co-op term at its Pictou County facility.

"When I got to Halifax I had no idea what opportunities were available to me," said Baker, originally from Prince Edward Island. "I'm really fortune that I made the decision to do the co-op program, because it really opened up my eyes. And it was thorough the co-op program that I found Michelin."
Kelly Regan, Nova Scotia's Minister of Labour and Advanced Education, was also in attendance to help celebrate Michelin's gift. She referred to Dal's IDEA Project (which stands for "Innovation and Design in Engineering and Architecture") as "the latest example of Dal taking charge and creating an environment where Nova Scotians can thrive."

The IDEA Project represents a major revitalization of Dal's downtown campus, adding advanced technology and design labs, state-of-the-art engineering facilities, and modern teaching and learning spaces alongside cutting-edge incubation space (the ideaHUB) to better link students and faculty to industry and entrepreneurs.
With a targeted completion date of spring 2018, the IDEA Project is made possible through the generous support of the Government of Canada as well as the matching support of donors such as Michelin, students and other industry partners.
Read more: The IDEA Project: How it will transform Sexton Campus (September 30, 2016)
Representatives of Dalhousie, Michelin and the Government of Nova Scotia at Thursday's event.