News
»
Go to news main
Hot bone glue may help to heal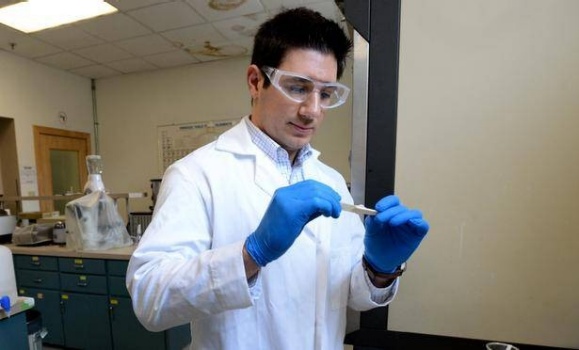 Article orginally printed in the Herald February 27, 2014
It's not superglue, but hot bone glue being developed in Halifax could make cranial and facial surgery simpler, quicker and more effective.
"It will bring a lot of comfort for patients," said Mehdi Kazemzadeh-Narbat, in an interview Wednesday.
He is an Iranian native who holds a doctorate in biomedical engineering from the University of British Columbia, and is doing preclinical testing at Dalhousie University, where he is a post-doctoral fellow, on a bone glue developed by Dartmouth Medical Research Ltd. of Halifax.
He has received a two-year, $50,000 Mitacs Elevate fellowship to conduct the research. Mitacs is a Canadian not-for-profit organization that offers funding for internships and fellowships at Canadian universities.
Kazemzadeh-Narbat said the bone glue developed by Dartmouth Medical uses biodegradable and biocompatible polymers that replace the plates and screws used in traditional cranial and facial surgeries.
"The biomechanical properties are better that conventional fixation systems," said Kazemzadeh-Narbat, who is working under the supervision of Amyl Ghanem, a process engineering and applied science professor at Dal.
The glue, which is applied hot and cures within seven minutes, saves time and expense by avoiding the need for drilling and implanting screws and plates, which takes about 30 minutes after surgery and usually requires further medical procedures to remove them.
"It's a novel polymer," he said, that is stronger that previous polymer glues and promotes quicker healing and deceases the risk of infection.
"We expect better results in terms of bone healing."
Kazemzadeh-Narbat said the technology is designed for non-load-bearing orthopedic applications but could also be used as a fracture filler.
"We have done some pilot tests in the lab and are preparing for preclinical evaluations," he said.
Kazemzadeh-Narbat said the glue, which could be useful in repairing complex, fragmented fractures, is similar to polymers approved for medical use by the U.S. Food and Drug Administration.
He said Dartmouth Medical hopes to get FDA approval for the hot-glue technology by next year.
Dartmouth Medical officials could not be reached for comment Wednesday.