Dr.
Stefanie
Colombo
Assistant Professor and Canada Research Chair, Aquaculture Nutrition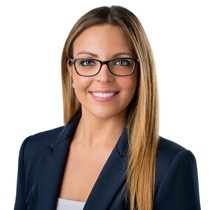 Email:
scolombo@dal.ca
Phone:
902-893-6646
Fax:
902-895-6734
Mailing Address:
Department of Animal Science and Aquaculture
Faculty of Agriculture
PO Box 550, 58 Sipu Road
Truro, NS B2N 5E3
https://www.aquaculturenutrition.com/

Education
B.Sc. Marine & Freshwater Biology (University of Guelph)
M.Sc. Biology (Dalhousie University)
Ph.D. Biology (Memorial University of Newfoundland)
Postdoctoral Fellow (Ryerson University)
Teaching
NUTR 3002: Fish Nutrition
Research Topics
Aquaculture nutrition and production
Lipids and fatty acids
Environmentally sustainable feeds
Fatty acid biosynthesis in fish
Nutrigenomics
Impact of climate change on nutrient availability and metabolism in aquaculture/ecosystems
Farmed seafood nutritional quality
The overall goal of my research is to discover novel solutions in nutrition to improve aquaculture and contribute toward healthier, environmentally sustainable, and economically viable farmed seafood. My particular interest is in understanding the mechanisms of fatty acid biosynthesis in fish in order to increase tissue storage of essential fatty acids, for optimal fish health and for human consumption.  
Selected Publications
Colombo, S.M., Parrish, C.C., Wacker, A., Kainz, M.J., Arts, M.T. 2017. A functional dichotomy in the production, distribution, and abundance of long-chain omega-3 polyunsaturated fatty acids between marine and terrestrial ecosystems. Environmental Reviews. 25: 163-174
Hixson, S.M., Parrish, C.C., Xue, X., Wells, J.S., Collins, S.A., Anderson, D.M., Rise, M.L. 2017. Growth performance, tissue composition and gene expression responses in Atlantic salmon (Salmo salar) fed varying levels of different lipid sources. Aquaculture. 467C: 76-88
Colombo, S.M., Parrish, C.C., Whiticar, M.J. 2016. Fatty acid stable isotope signatures of molluscs exposed to finfish farming outputs. Aquaculture Environmental Interactions. 8: 611–617
Hixson, S.M., Arts M.T. 2016. Climate warming is predicted to reduce omega-3 long chain polyunsaturated fatty acid production in phytoplankton. Global Change Biology. 22: 2744–2755
Hixson, S.M. 2014. Fish nutrition and current issues in aquaculture: the balance in providing safe and nutritious seafood, in an environmentally sustainable manner. Journal of Aquaculture and Research Development. 5: 234 doi:10.4172/2155-9546.1000234
Hixson, S.M., Parrish, C., Anderson, D. 2014. Use of camelina oil to replace fish oil in diets for farmed salmonids and Atlantic cod. Aquaculture. 431: 44-52
Hixson, S.M., Parrish, C., Anderson, D. 2014. Full substitution of fish oil with camelina oil, with partial substitution of fish meal with camelina meal, in diets for farmed Atlantic salmon (Salmo salar) and its effect on tissue lipids and sensory quality. Food Chemistry. 157: 51-61
Colombo-Hixson, S.M., Olsen, R., Milley, J., Lall, S. 2011. Lipid and fatty acid digestibility in Calanus copepod and krill oil by Atlantic halibut (Hippoglossus hippoglossus L.). Aquaculture. 313: 115-122.