Managing Research Funding

The Principal Investigator (PI) is responsible for managing their research award throughout the life of the project. This includes preparing and submitting narrative reports, reviewing financial reporting, ensuring expenses are eligible and requesting any necessary amendments or subgrants.
ORS provides post-award support to researchers by authorizing account opening and assisting with project amendments and subawards. The Research & Special Purpose Accounting Unit of Financial Services provides financial administration for research grants and contracts awarded to the University. This Unit works closely with funding agencies, researchers, administrative units and Office of Research Services to ensure adherence to funding guidelines and policies.
Research Account Opening Process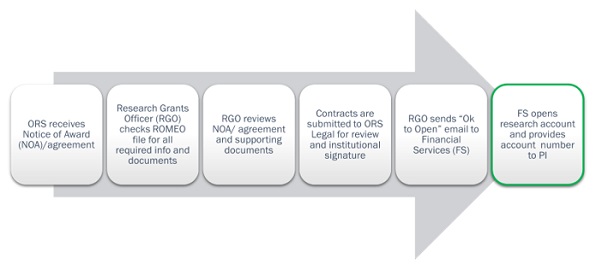 * Some grant agreements require legal review and institutional signature.
To avoid delays in establishing your research account, always ensure funding applications are reviewed by an ORS grants facilitator prior to submission.
Account Management
Once your research account has been opened, Dalhousie Financial Services is responsible for ongoing financial administration, including financial reporting and revenue collection. PIs should direct financial queries to their research account administrator [login required].
Each researcher is responsible for the overall management of their research projects. These responsibilities are detailed in the Research Accountability Statement.
Requirements to Request Account Opening
Approved Investigator Checklist (submitted through ROMEO)
Notice of Award or agreement
Final application including budget (as submitted to funder)
Confirmation of any partner contributions (cash and in-kind)
For internal awards, a completed FSRAA
Copy of any required certifications such as REB approval, animal care, biosafety (as indicated on the Checklist)
Transfer Research Funds

Outgoing transfers of funds: ORS will assist researchers who wish to transfer funds from Dalhousie to project partners (provided the sponsor's terms and conditions or guidelines permit the issuance of sub-grants).
For a grant, the PI is required to complete the Transfer of Funds Request through the ROMEO Researcher Portal. A Letter of Transfer of Funds will then be prepared. For more information, please contact orspost@dal.ca (transfers from Canadian institutions) or irdadmin@dal.ca (transfers from international institutions).
For a contract, the legal advisor will prepare a sub-agreement governing the terms and conditions of the funding. Please contact orspost@dal.ca.

Incoming transfers of funds: Transfer of funds to Dalhousie researchers from researchers at other institutions are considered new awards. The account opening process and required documents are the same as for other research funding.
Amendments to Funding Agreements

Changes to projects such as end-date extensions or revised budgets generally require written approval from the funder. Please notify your funder(s) as soon as possible when an amendment is required. The requirement for funder approval applies to both internal and external funders.
Please note, all certifications (REB, animal care, etc.) must be up-to-date to finalize an amendment.
Researchers should contact ORS for assistance in submitting amendment requests to the funder. If a PI receives an amendment directly from the funder, it should be sent to orspost@dal.ca for review and processing.
Changes to Canada Foundation for Innovation (CFI) and CFI-related projects requires consultation with the Institutional & International Programs unit. Please contact cfi@dal.ca.