Current Scholarship Holders
2022-2023 Scholarship Recipients
Grace Akinrinola
"I am excited to start the Master of Marine Management (MMM) program at Dalhousie University and grateful for the support of the Sobey Fund for Oceans Scholarship. I have an educational background in Marine Biology, Marine Pollution and Management with over 7 years of experience in environmental impact assessment, implementation of ecosystem-based approach programs, and strategic marine-related research. Throughout my applied marine biology work, I continued to witness and develop an interest in the human dimensions of resource use, particularly aspects related to conflict and justice. I look forward to bringing my knowledge and experiences to the MMM program and developing an interdisciplinary approach to address contemporary issues in ocean and coastal management. Specifically, my research is to apply the DFO (Maritimes Region) Ecosystem-Based Management (EBM) Framework to the case of Treaty fisheries implementation (particularly lobster) to assess and understand gaps in what the Framework offers and what the Sipekne'katik First Nation community may need. Further, the newly developed Sipekne'katik Governance Initiative (SGI) will provide the Mi'kmaw lens against which DFO's EBM approach will be co-examined."
Breanna Crosby
"I am extremely grateful to have been chosen as a recipient for the Sobey Fund for Oceans Scholarship as I begin my Master of Marine Management at Dalhousie University. A lifelong love of the ocean and an undergraduate degree in biology has fostered my interest in coastal marine ecology. I am particularly interested in the conservation of native species and the management of invasive species along the coasts of Atlantic Canada. It is my hope that through the Marine Management program, I will learn how to effectively develop management policies that integrate citizen science as I believe that community involvement can be instrumental in conservation and management efforts."
Abigael Kim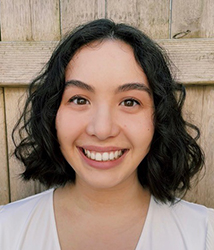 "I am so very humbled to be receiving the Sobey Fund for Oceans Scholarship as I continue my studies with the Marine Management program at Dalhousie. Blending my love of the ocean and passion for supporting those communities that rely on its resources; my research is rooted in the socio-ecological dimensions of marine protected areas and the ability to achieve mutually beneficial outcomes for both ocean and community. I am passionate about creating marine management strategies that are ecologically sustainable and encourage resiliency and capacity building in coastal communities. My hope is that this work will drive socio-economic and ecological change across a diverse range of stakeholders and rightsholders, providing a common thread of conservation and capacity building through local, industry, and government partners, keeping our oceans healthy and our communities prosperous. I am extremely grateful to the Donald R. Sobey Foundation for their trust and support as I aim to reach these goals."

Adam Williamson
"I am hugely looking forward to pursuing a Master of Marine Management at Dalhousie, with no small thanks to the Sobey Fund for Oceans Scholarship. The interdisciplinary nature of this program is what made it attractive for me; my academic and professional background is mainly in freshwater ecological research, so I am excited to expand my knowledge and experiences through to marine research and management.  I have always been interested in ecological restoration, as such I hope to explore the challenges and interdisciplinary approaches to marine restoration in Atlantic Canada and how solutions for better restoration outcomes can combine positive synergies among biodiversity gains, climate change adaptation and sustainable economic opportunity."