Events, By Category and Date:
»
Go to news main
Canadian Citizenship Ceremony
Posted by
nte
on February 20, 2017 in
In Action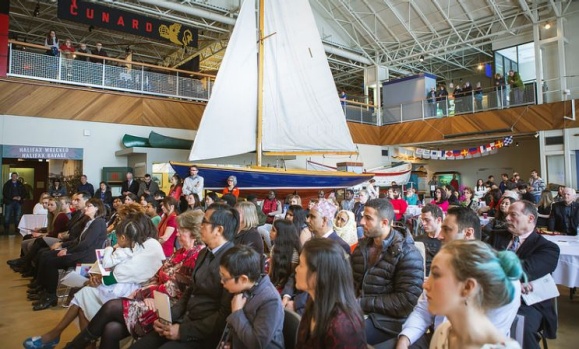 Francoise Baylis, a bioethicist who gave the address during Monday's ceremony, said in an interview she's concerned by Trump's actions and the recent emergence of opposition from several MPs to a parliamentary motion condemning Islamophobia and racism.
"I'm very mindful of the broader political and social context we're in now," she said. "I want to follow our prime minister in terms of … we're going to be positive, we're going to be open, we're going to be welcoming and we're going to give out a very clear message that if you want strength you get it through diversity."
"These ceremonies are a reminder to Canadians of what we have."
—taken from Tutton, M. (20 Feb 2017). At ceremony, refugees speak of gratitude: 'I think we'll find our identity now.' City News.
Françoise Baylis, bioethicist and member of the Order of Canada, led the proceedings.
"You have made tough adjustments and you have made a conscious decision in favour of Canada," she said in her speech to those waiting to take the oath.
"Today . . . Canada is declaring in favour of you."
—taken from Anonymous. (21 Feb 2017). New Canadians from Egypt, Bhutan, among 34 in Halifax citizenship ceremony. Metro Halifax.