News & Events
Subscribe
PAST EVENTS


Visibility Matters: Representation of Lesbian Communities in Archives and Beyond; a panel discussion

This panel discussion was organized in recognition of Lesbian Visibility Day (LVD) and was presented by the Dalhousie Libraries, home of the Nova Scotia LGBT Seniors Archive, and the Mount Saint Vincent University Library & Archives.

LVD occurs annually on April 26 to celebrate, recognize, and bring visibility to lesbian-identified members of the LGBTQ+ community while honoring and elevating this unique community of people who are historically overlooked and dismissed by way of being both women and queer.
The panel was moderated by Dr. Jacquie Gahagan, founder of the NS LGBT Seniors Archive. Panelists included: Meredith Batt, Anne Bishop, Elinor Crosby, Rachel Moore, and Denyse Rodrigues.
Tuesday, April 26, 2022, 12–1 p.m.
 
Finding Our History: A Conversation About LGBT Collections and Exhibitions

To celebrate LGBT History Month, join our group of panelists for a showcase of 2SLGBTQIA-focused collections, exhibitions, and history projects from across Atlantic Canada. Moderated by Nova Scotia LGBT Seniors' Archive founder Jacqueline Gahagan, panelists will discuss how these projects enable members of the community to find, access, and interact with information about 2SLGBTQIA history in the region. The panelists were: Meredith J. Batt, Daze Jefferies, Robin Metcalfe, Rachel Moore, and Denyse Rodrigues. Panelist bios available here. 
Thursday, October 28, 2021, 3–4 p.m.
A Conversation about LGBT Seniors' Archives in the Atlantic Region

Join the founder of the Nova Scotia LGBT Seniors Archive, Jacquie Gahagan, and panelists from the Atlantic region for a conversation about the importance of preserving and sharing our histories.
Panelists include:
Meredith Batt, Archivist, Provincial Archives of New Brunswick / Archives provinciales du Nouveau-Brunswick
Ailsa Craig, Professor of Sociology and Interim Dean for the Faculty of Humanities and Social Sciences, Memorial University of Newfoundland
Nola Etkin, Dean of Science and Professor of Chemistry at the University of Prince Edward Island
Rachel Moore, Research Assistant, NS LGBT Seniors Archive
Jess Wilton, PhD candidate at York University
Wednesday, August 18, 2021, 12–1 p.m. (AST)
Launch of the Nova Scotia LGBT Seniors Archive

Join us for the launch of the Nova Scotia LGBT Seniors Archive, a project the Dalhousie Libraries has been supporting through the Dal Archives.
The Dalhousie Archives are proud to provide a home for these materials, which tell the history of the LGBT community in this province. Learn more about this important collection and hear from some of the people who have been working on it since the beginning. 
Thursday, October 15, 2020, 4–5 p.m.

2019 LGBT History Month Reception
People interested in the project and in 2SLGBT history gather to mingle and get a project update.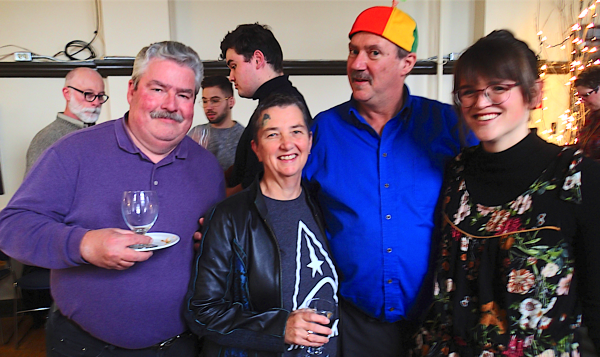 Welcome to the LGBT Archives' web site!  We'll be updating the "Search The Collection" frequenly with finds and will be picking one feature item each week for the front page, in the "Find of the Week" section.

Wednesday, October 9, 2019
People interested in the project and in 2SLGBT history gather to mingle and get a project update
This page is your source for news about the project
View past items