2019 LGBT History Month Gathering
»
Go to news main
2019 LGBT History Month Reception
Posted by
Dan MacKay
on October 9, 2019 in
News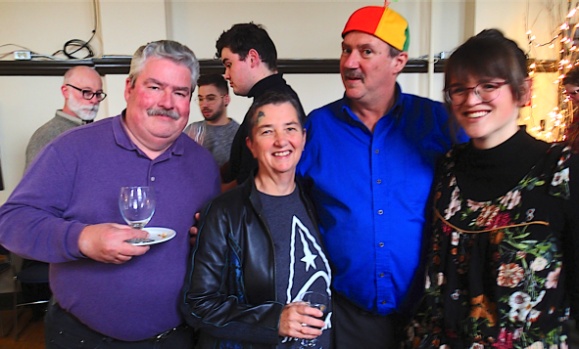 In celebration of LGBT History Month, which runs for the month of October, the Nova Scotia LGBT Seniors Archive team held an event to celebrate the launch of the Archive, which recognizes the various human rights advances made by LGBT individuals in Nova Scotia throughout history.
Dr. Jacqueline Gahagan, Professor of Health Promotion in the Faculty of Health Professions at Dalhousie University, is the lead on the Nova Scotia LGBT Seniors Archive project. During the initial two-years of funding from the Nova Scotia Department of Seniors, the team will work with the LGBT senior's community to build an archive of the LGBT history from across Nova Scotia. At the event, Dr. Gahagan talked about the importance of preserving the history of our LGBT seniors before their stories are lost forever, noting the archive will be a teaching and learning resource accessible to all.
Donna Bourne-Tyson, Dalhousie's University Librarian, noted that the Dal Libraries are excited to be partnering on this initiative, and expressed our commitment to preserving, digitizing and making accessible these materials. This is a key moment in time when some of the content is being packed up as individuals downsize their possessions in preparation to move into a smaller home; we have an opportunity to preserve material that might otherwise be discarded during the move. The variety of formats have presented interesting preservation and access challenges, which has been and continues to be a great learning opportunity for the School of Information Management (SIM) interns who have been hired to assist. This initiative fits with the Libraries' mandate to preserve community records in our Archives. There are already more than fifteen donors who have come forward with important collections to add to the Archive. The contributions and leadership of the Associate University Librarian for Archives, Special Collections and Records Management, Michael Moosberger, were acknowledged by Ms. Bourne-Tyson.
The event also featured comment from Daniel MacKay, a senior from the LGBT community and SIM intern Lydia Hunsberger, who are both research assistants with the Nova Scotia LGBT Seniors Archive. They were joined by Anita Louise Martinez, a donor who has documented her community through photography for over three decades.
The Nova Scotia LGBT Seniors Archive has a projectDAL fundraising campaign until November 4, 2019. The goal is to raise $15,000 to pay a student archivist to help with the tasks associated with setting up the archive. More information will soon be available on the Dal Libraries website as well.
Please help us bring the Nova Scotia LGBT Seniors Archive to Life!
https://projectdal.ca/project/lgbt/
Contact Jacqueline.Gahagan@dal.ca for more information