Tla‑o‑qui‑aht, B.C.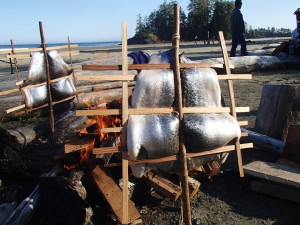 Read Tla-o-qui-aht pamphlet. [PDF 410 KB]
The Tla-o-qui-aht First Nations is located around Clayoquot Sound on the West Coast of Vancouver Island. Tla-o-qui-aht are Nuu-chah-nulth speakers, with strong family linkages up and down the West Coast. The Tla-o-qui-aht First Nation resides on three main village sites, one on Meares Island (Opitsaht) and two, Ty-histanis and Esowista, surrounded by Pacific Rim National Park. Tla-o-qui-aht is the amalgamation of historic indigenous groups that once lived all around the lake system called Ah-ook-man (now referred to as Kennedy Lake).
Tla-o-qui-aht are a fishing and hunting people, that have strong connections to the lands, resources, songs, masks, etc in their Ha-houthlee (chiefly territories). In recent history, the Tla-o-qui-aht Nations have engaged in various economic development projects within fishing, eco-tourism, and hospitality which have provided employment and revenue to the Nation and its muschim (people of the Nation).
The Tla-o-qui-aht Nations is governed by both hereditary and Indian Act (elected Chief and Council) governance structures. The Ha'wiih are the hereditary leadership of the Nation and are instrumental to the governance structures and practices of the Nation. The traditional governance system is based on houses. Houses are social sub-groups based on familial ties.
The Tla-o-qui-aht hereditary system is a complex form of self-government that integrated a distinct worldview characterized by a deep understanding of history, family and the connection to the ha-houthlee and the resources within.
Tla-o-qui-aht is a thriving community that relies on the marine resources for not only food and ceremonial purposes, but as a keystone to their economy. Tla-o-qui-aht was one of five Nations who were plaintiffs in the successful Ahousaht et al. (2009) legal case against the Government of Canada. Through this legal challenge, the five Nations proved an aboriginal right to fish and sell all species of fish within their ha-houthlee. This implementation of this right is currently being negotiated with the Government of Canada. The Tla-o-qui-aht Fisheries department and Tla-o-qui-aht governing structures are currently implementing best practice models in resource management that is based on our traditional values, teachings and modern science.
The Community Liaison Coordinator for Tla-o-aht-qui is Terry Dorward