Training Opportunities
Leading Virtual Teams
Learn actionable frameworks and best practices for success in leading and working in virtual teams.
Virtual teams are an integral aspect of work structure worldwide. They can bring together top talent with diverse perspectives and expertise, reduce traditional business costs, and increase productivity and innovation.
Yet challenges remain in understanding how virtual team leaders can cultivate trust, keep employees engaged, leverage technology to overcome communication barriers, align goals, and clarify roles, objectives, and expectations. Award-winning Faculty of Management professors can help overcome those challenges by training successful e-leaders.
Training Solutions
Our range of eLeadership learning options will give you and your virtual team the empirically tested knowledge and capabilities to build trust, communicate effectively, work productively, and reach organizational goals.
Our proprietary ConnecT Framework training model is based on evidence that major communication breakdowns and conflicts in virtual teams can be mitigated through leadership intervention.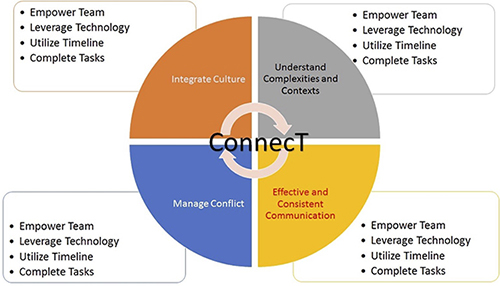 Course Options
One-hour webinar: 40-minute presentation followed by a 20-minute Q&A session. A practical introduction to eLeadership of virtual teams. Learn the Top Five things you can do immediately to lead and work more effectively and productively in a virtual team, Recommended for virtual team leaders and virtual team members.
Call to book. Webinars must be scheduled a minimum of 4 weeks in advance.
Three-hour (1/2 day) Seminar: Get practical and immediately applicable tips, tools, methods & best practices for effective leadership in this in-depth introduction to the essentials of virtual team leadership. Seminar focuses on communications, how to build trust and respect in virtual teams, and application of new capabilities through an action-project simulation. Seminar participants can expect to lead more productive virtual teams with greater know-how and self-confidence. Recommended for both current and emerging virtual team leaders.
Call to book. Seminars must be scheduled a minimum of 6 weeks in advance.
Workshops
Available for delivery in cities across Canada, the Dalhousie eLeadership research team will deliver an interactive and engaging one- or two-day workshop that will transform your virtual team into a productive and cohesive unit. Participants gain in-depth knowledge of the mechanics of building virtual teams that are respectful, trusting, collaborative, and highly productive.
Through a mix of group activities and self-reflection, participants will learn to:
foster trust, collaboration and group effort;
establish clear expectations based on mutual trust and respect;
meet organizational goals;
communicate effectively within their teams, regardless of the technology used.
Workshops include:
a custom-designed action project simulation
a follow-up session in six months where participants can share successes and receive coaching to deal with any ongoing challenges
One-day Workshop: Choose from either an in-person full-day workshop OR two (2) three-hour seminars delivered online. Minimum class size requirement for in-person workshops.
Two-day Workshop: Available as an in-person two-day workshop, with available delivery face-to-face in cities across Canada. Minimum class size requirement. Also available for online delivery.
Pricing
Pricing for seminars and workshops is dependent on format (in-person or online), location, and class size.
Contact Us for a Quote
Dalhousie University | Executive Education
Phone: 902-494-1205
Email: execed@dal.ca