News

8th Annual Supply Chain & Logistics Management Workshop 
 Sustainable Supply Chains in a VUCA World
November 28, 2023; 8:30–17:30 @ Faculty of Management, Dalhousie University
Dal SC&LM students win 2019 Nationwide Supply Chain Case Competition!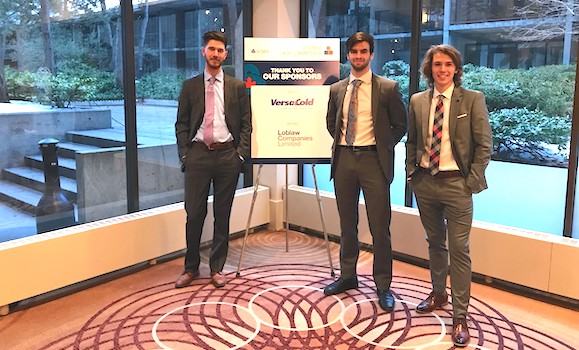 Kudos to our SC&LM major students (L to R) Matthew Cohen, Cameron Illingworth and Ben Crain who ranked top in Canada for the 2019 – 8th SCMA Annual Student Case Competition, held in Toronto on Feb 23. SCMA, Supply Chain Management Association, is the largest SC association of Canada, celebrating its 100th year. The association was recently renamed as SCC–Supply Chain Canada. Thanks to Dr. Alexander Engau for his time and enthusiasm in coaching our SC competition team members. The registration and event attendance costs were sponsored by CRSSCA.
The 2019 Student Case Competition, sponsored by VersaCold and Loblaw, saw 22 teams compete from across the country. A total of 70 undergraduates  enrolled in a supply chain or business administration program in a Canadian college or university competed in teams of three or four. They worked to resolve real-world strategic and tactical challenges by examining topics such as logistics, network design, procurement, relationship management and sustainability. The teams studied a business case and presented their solutions to a panel of judges consisting of business professionals, academics and corporate sponsors.