News
»
Go to news main
Dal's First Dobbin Scholar
Posted by
IMPART
on July 26, 2013 in
News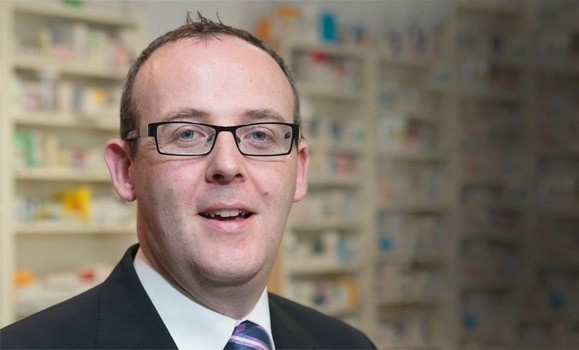 There's a first for everything.

Irish researcher Stephen Byrne, for example, is the first Dobbin Scholar to come to Dalhousie. And he's gotten to experience his own set of firsts in Halifax – including his first hockey game (on St. Patrick's Day, no less).

Dr. Byrne arrived in Halifax for his month-long stay from the College of Pharmacy at the University of Cork College (UCC) in Ireland on March 9. With expertise in clinical pharmacy, he received the Dobbin Scholarship to establish links and exchange research ideas between the two countries.

"The whole idea of a Dobbin award is knowledge exchange between Ireland and Canada. It's a two-way process," Dr. Byrne says.
Learning from Dal IMPART


The Dobbin Scholarship, funded by the Ireland Canada University Foundation, is awarded to several academics from both Ireland and Canada each year as part of a foundation named after Craig Dobbin from Newfoundland. Started in 1993, it allows the flow of knowledge and ideas between the two countries to collectively improve both.

Dalhousie's Initiative for Medication Management, Policy Analysis, Research and Training (IMPART) group is what attracted Dr. Byrne to Halifax. He hopes to develop links with the research group, chaired by Pharmacy Professor Ingrid Sketris, and observe how the group operates. IMPART is a research team at Dalhousie of pharmacists, health economists and policy makers that conduct research on the management of pharmaceutical products and programs.

"It's essential to see firsthand how things are implemented and how health-care systems are operationalized in different jurisdictions," Dr. Byrne says. "That's really what we want to see: how pharmacy education and research systems work here in Dalhousie and how we can learn to bring similar structures into UCC and Ireland."

He says Dal has been a great host, providing him with a busy schedule of meetings during his stay as well as presentations to promote his research.
 
"It's been fabulous so far. Everyone has been very open in sharing their ideas."
Great exchanges


Dr. Byrne is at Dalhousie not just for research links and knowledge exchange, but to share a research tool that the Cork team developed.
In 2008, with a team of Physicians at Cork University Hospital and Pharmacists at University College Cork they developed the STOPP/START tool ("Screening Tool of Older Person's Prescriptions and Screening Tool to Alert doctors to Right Treatment") that highlights areas where health-care professionals are potentially prescribing inappropriately to patients. The tool has received international acclaim and is being implemented in Taiwan, Canada, the U.S. and around Europe.

The tool has 65 STOPP criteria and 22 START criteria that break down disease states by body systems, highlighting instances where health care professionals are prescribing either too high of a dosage or too long of a duration or aren't prescribing an appropriate treatment for a certain disease.

"It's pairing the patient's medical condition with the optimal therapy," Dr. Byrne explains. The tool assists physicians to highlight potential instances of inappropriate medicines and disease combinations.
"The whole idea is to improve medication use in patients, particularly in the older patients," Dr. Byrne said. His research is mainly targeted for long-term care, including nursing home facilities.

Dr. Byrne is learning from Dalhousie and vice-versa — exactly the idea behind the exchange.

"I'm not used to the snow," he confides, "but that's just another new experience too."