Stephanie
Smith
BSc, MSc, OC(C), COMT; Assistant Professor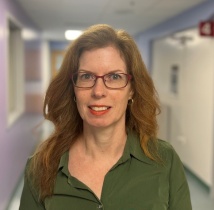 Clinical Appointments
Orthoptist/Ophthalmic Medical Technologist, IWK Health Centre, Halifax NS

Education
BSc with honours, Biology, Dalhousie University, Halifax, NS 1994
MSc, Biology, Dalhousie University 1996
Graduate Diploma, Orthoptics/Ophthalmic Medical Technology, School of Orthoptics & Ophthalmic Medical Technology, IWK Health Centre / Dalhousie University, Halifax, NS 2003
Current Teaching
VISC 5210.03 - Clinical Foundations of Ophthalmic Medical Technology
This class will introduce the student to the complexities of analysis of the visual system. This will be achieved through clinical scenarios in which the student will be required to engage in direct patient care, including sensory visual evaluation, physical ocular assessment, and biomedical application of ophthalmic instrumentation.
FORMAT: Lecture and lab
PREREQUISITE: VISC 5211.03 and 5230.03
VISC 5211.03 - Clinical Foundations of Orthoptics
This class will provide students with an opportunity to explore in depth topics of interest in the ophthalmic field. The students will then have a sound knowledge base of potential areas of research and detailed knowledge of the field in which his/her thesis work will likely be undertaken.
FORMAT: Seminar format
PREREQUISITE: VISC 5210.03 and 5220.06
This class will introduce the student to the wonders of binocular vision in its normal presentation and also the intricacies of its abnormalities. Integral to the class material will be the analysis of responses of the binocular system to various clinical challenges.
FORMAT: Lecture and lab
PREREQUISITE: This class is a prerequisite for Practicum I
VISC 5340.03 - Treatment of Visual Disorders
This class introduces a variety of therapeutic approaches to visual disorders with an in depth examination of historical and current methods of treating amblyopia and other developmental anomalies of the visual system. The treatment of acquired anomalies as well as routine spectacle and surgical treatment of refractive disorder will be covered.
FORMAT: Lecture and lab
PREREQUISITE: VISC 5240.03

Research Interests & Activities
Stephanie's research interests include low vision and treatment of intermittent exotropia. She is currently serving on the supervisory committees of three CVS students.