Maria
Pryde
BSc, MSc, OC(C), COMT; Assistant Professor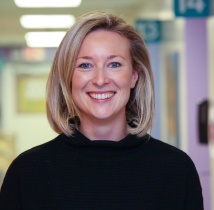 Email:
maria.pryde@iwk.nshealth.ca
Phone:
(902) 470-8571
Mailing Address:
IWK Health Centre
5850 University Avenue, 6th Floor
P.O.Box 9700, Halifax, NS
B3K 6R8

Clinical Appointments
Clinical Orthoptist/Ophthalmic Medical Technologist, IWK Health Centre
Education
BSc with Advanced Major in Biology, St. Francis Xavier University, 2005

MSc in Clinical Vision Science, Dalhousie University, 2008
Certified Ophthalmic Medical Technologist, JCAHPO, 2013
Current Teaching
VISC 5210.03 - Clinical Foundations of Ophthalmic Medical Technology
This class will introduce the student to the complexities of analysis of the visual system. This will be achieved through clinical scenarios in which the student will be required to engage in direct patient care, including sensory visual evaluation, physical ocular assessment, and biomedical application of ophthalmic instrumentation.
FORMAT: Lecture and lab
PREREQUISITE: VISC 5010.03 to be taken concurrent with this class
VISC 5222.06 - Advanced Ophthalmic Technology
(Winter and Summer)
This course provides knowledge on advanced ophthalmic diagnostic techniques and preliminary data analysis used to detect ophthalmic disorders. It furthers a systematic approach to instrumentation selection and performance, and will equip students with the ability to recognize and solve inconsistencies in results occurring due to instrumentation, examiner or patient errors.
FORMAT: Lecture and lab
PREREQUISITE: VISC 5210.03

Research Interests & Activities
Processing of visual input to guide reaching and grasping tasks
Currently serving on the thesis supervisory committee of one of our CVS students in the topic of potential inhibitory consequences of grasping movements.