News
»
Go to news main
Dal Engineering Student Receives Academic All‑Canadian
Posted by
Engineering communications
on January 19, 2023 in
News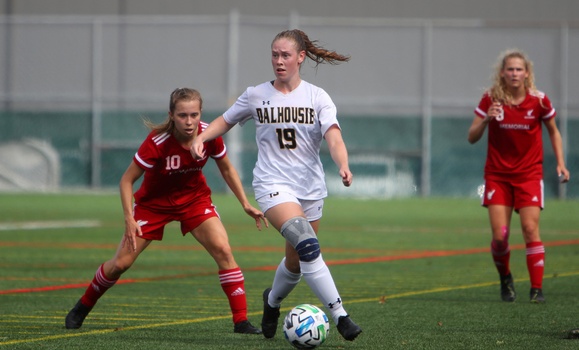 Kaitlyn Woodworth never wanted to just be a student with good grades. She also didn't want to just be known as the girl who played on Dalhousie University's Women's varsity soccer team. The 4th year Chemical Engineering student wanted it all, and for a third year in a row, she's achieved it all.

Today, Woodworth was honoured as a three-time Academic All-Canadian. The distinction is one of the highest recognitions a university athlete can achieve. It recognizes student-athletes who attain a GPA of 3.5 or higher while competing in a varsity sport.

For engineering students such as Woodworth who are often enrolled in at least six courses per semester, along with labs, tutorials and countless assignments, the achievement may seem unattainable. Woodworth says, it's not.

"I'm more productive when I'm busy. I can go to the extreme where it's too much, but I function well when things are moving around me," she says. "I definitely came into university with the mindset that this is going to be busy, so I need to stay on top of everything." 
 
On and Off the Field
A striker for the Dalhousie Women's soccer team, Woodworth says her busy schedule starts in August each year, with a full week of activities that include either games or practices almost every day into November. During the off-season, her team is on the field or in the gym 5 to 6 days a week.

Yet somehow over the years, the Bridgewater native has also found time in her schedule to participate on the University's track and field team and participate in over five other extra-curricular activities including Jack.Org, the Dal Engineering Mental Health and Wellness committee, and as a volunteer with the Ronald MacDonald House.

"Why not," she says. "I enjoy being involved in the engineering community. My involvement in activities have made me feel a little bit more connected to everyone and that was really why I tried to get involved in the first place." 

Along the way, she says her participation in organizations such as Jack.org have sparked new interests and passions in life.

"I'm now more engaged in the mental health space. I try and voice my opinion and help better connect and educate myself and others whenever possible." 
 
Future Goals
Her time as a chemical engineering student and a varsity athlete has also helped her figure out what she might do with her degree once she graduates next year.
"At the moment I hope to pursue a graduate degree in Biomedical Engineering."

Currently enrolled in the Faculty of Engineering's Certificate of Biomedical Engineering, Woodworth says she'd always had an interest in medicine, but was never quite sure how it intertwined with engineering.
"I am an athlete and have been around injuries," she adds. "My rehabilitation experiences have led me to become interested in the various applications of biomedical engineering."
Within the Faculty of Engineering, students interested in pursuing a career in Biomedical Engineering can enroll in the Certificate of Biomedical Engineering. Beginning in their third year of engineering, students in chemical, mechanical, electrical or industrial engineering can complete the program concurrently with their undergraduate degree.

Woodworth says the program has allowed her to explore many different areas of Biomedical Engineering, while also learning about how fields such as biology and medicine interconnect with areas such as engineering, math and physics.
"It's really interesting how you can apply a skill set of engineering problem solving to these biological focused applications."

Woodworth says she feels lucky to have come to Dalhousie University, to have had the opportunity to actively take part in the engineering community, and to have enrolled in a degree program that's opened new career ambitions. All of this while also having the chance to play varsity soccer.
"One of the reasons I ended up coming to Dal was my coach made it clear to me that I would be able to prioritize my academics, because that was my number one priority, while also having the experience on the soccer team. So the two of them together just made for a perfect combination."



Congratulations to all of this year's Academic All-Canadian Recipients:
Andrew Arseneau
Nicolas Beaulieu
Gregor Deveau
Peter Greechan
Amelia Lane
Jeffrey Meagher
Reilly Pickard
Loannis Trihopoylos
Samuel Wade
Jeffrey Walton
Lauren Williams
Kaitlyn Woodworth
Riley Workman