News
»
Go to news main
THIS IS WHAT AN ENGINEER LOOKS LIKE
Posted by
Merilyn Layne
on November 8, 2021 in
News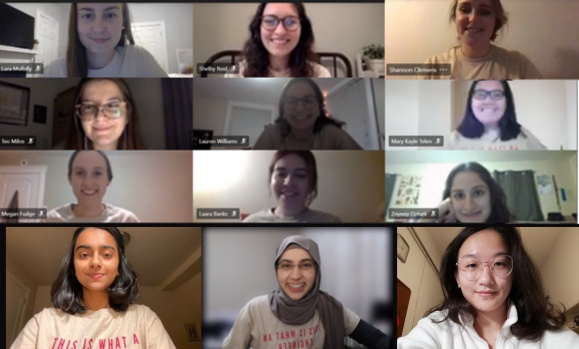 In the past 24 months, The Women in Engineering (WiE) Society has quickly become one of the most influential societies on campus. This society welcomes students who share common goals and interests relating to the advancement of equality for women within the engineering industry in both academia and professional practice. With an aim to overcome the gender gap, the society gives all female-identifying students at Dalhousie University a platform to be heard and a position of power in various engineering communities.
Through outreach, professional development, and support system initiatives, WiE members are encouraged to harness their own potential and to engage in leadership opportunities in the society.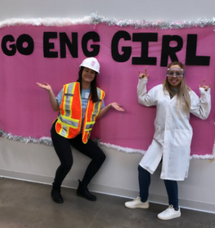 One such initiative is the annual event "Go Eng Girl". Go Eng Girl is an annual event hosted by universities across Canada for female-identifying students. This program encourages students in grades 7-12 to explore engineering through hands-on activities and provides opportunities for high school students to connect with current female engineers and students. The goal is to help younger women visualize themselves as engineers through this program.
In 2020, the Go Eng Girl annual event went virtual for the first time in its history. The organizing team made up of members of the Women in Engineering Society (WiE), jumped at the challenges and opportunities of the now virtual event and were rewarded with a remarkable turnout.
Eptehal Nashnoush, as co-chair of the event, shared her insights about the event itself and its impact on her, young girls, and the profession of engineering.
Eptehal has been involved with WiE society since 2018 as the VP of Communications; she also had experience planning conferences with the Canadian Undergraduate Technology Conference. With these two experiences in mind, she realized she would be well equipped to take on the co-chair role for the 2020 Go Eng Girl event, especially considering it was going to be a particularly challenging year. Eptehal and the planning team got to work on how to keep the high-school-aged students engaged in this new online setting.
The first step was choosing an interactive platform. The team went with HopIn, an online conference service that was newly being explored by folks within the Maritime region at that time. Eptehal shared just how important that decision on the platform was by saying, "I believe that the platform made all the difference to the way we interacted with the attendees given how easy it was to use. We also managed to make the design competition completely online with zero materials needed, all while ensuring engineering concepts were being applied."
Keeping some fan-favourite activities from the annual event in the virtual format was also vital in choosing a platform and the programming the WiE Team delivered. Being able to keep the design competition was very meaningful to Eptehal. High school students chose case studies based on COVID-related scenarios designed by the WiE Team that could solve problems such as assisting the elderly and the vulnerable in our society get their groceries and PCR tests using robots and drones with the tools provided on the platform. The students had the opportunity to problem-solve real issues currently happening here in Nova Scotia. "We were really happy that we still incorporated the competition, and because it was online, we saved money. We could use the funding for more prizes, which was a highlight because we didn't have to choose one winner for the entrance award to the Dalhousie Engineering program. But we were able to spread the scholarships and empower as many girls as we possibly can." Shared Eptehal.
Another benefit to the event moving online was its ability to be offered to a broader area. Eptehal shared the team's thoughts around this new possibility "We realized that now we could communicate with schools that were, not just in Halifax, but we could open it up to the entire of the maritime region and more rural areas." She also added, "We had schools participating in Nova Scotia that normally would not be able to attend, especially in the rural areas. They were thrilled to hear from us and take part in this experiential learning opportunity for their students."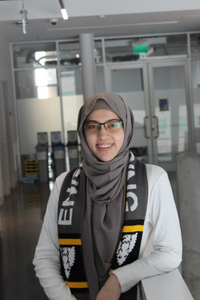 The event drew 93 high-school-aged students to participate in a full-day of learning and activities. The planning team had a few critical areas of focus this year —the first being diversity. The event featured representation from as many women as possible so girls could directly relate to who they were interacting with. Eptehal sees great value in this from her own experiences adding, "I know personally often there's a position in a field like engineering and I don't see many people that look like me. Even though they may be women, they don't particularly look like me. When I see myself in the field, it sends a different message, that if she did it, then I can as well." On how that influenced the event, Eptehal said, "We wanted to represent many ethnic backgrounds and even different religious backgrounds, having a larger audience this year we focused on that aspect. We were very pleased to find volunteers that were open to, coming on and immediately understanding the importance of the girls seeing themselves thriving in this field."
"It may be tough at the beginning, but at the end of the day, what matters is the impact that you make, and if you are passionate about what you do and you're good at what you do, then you will find your way and people will make place for you." – Eptehal Nashnoush
Other areas of focus of the event were the co-op and graduate school sessions. They were showcasing to the high school students the possibilities of how engineering can be applied. "We had speakers that worked with Disney, speakers working in the Bahamas, and graduate students working with Tesla. It shows them that their career is within their hands, and they can make it more fitting to their personality. I think that's the beauty of engineering," said Eptehal.
Co-chairing the event with graduate student Shannon Clemens was seen as an opportunity in Eptehal's eyes to give back in her undergraduate years and make changes for the next generation. Eptehal added of the team involved, "The entire team of the Go Eng Girl event were just phenomenal. They were able to make this virtual event happen. Leaving a lasting impact was the main driver for everyone involved. It wasn't that they wanted to put on their resume or be featured online. They were genuinely concerned about the next generation and wanted to do as much as possible while they have the opportunity."
Eptehal joined the Women in Engineering Society in 2018 and is now in her fourth year at Dalhousie. She has enjoyed watching the society thrive and takes pride in participating in its growth. With a focus on equity, diversity, and inclusion, the Women in Engineering Society has taken a strong spot as a top society that undergraduate and graduate engineering students want to join and interact with. This student group has worked and will continue to work together to reframe the visual representation of women in engineering and answer the question, "What does an engineer look like?"