News
»
Go to news main
ideaHUB Staff Announcment
Posted by
Engineering Communications
on June 8, 2021 in
News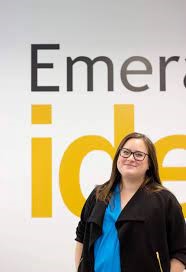 After 2 years of outstanding performance and commitment to her role as the Director of Emera ideaHUB, Margaret Palmeter is leaving Dalhousie and the Faculty of Engineering to pursue a new opportunity. Margaret will be entering the role of Director of Business Development as a member of the Research,  Innovation & Discovery team with Nova Scotia Health. There she will provide leadership in the development of industry partnerships to expand commercialization opportunities and promote an innovative and entrepreneurial culture advancing Nova Scotia Health's strategic research plan.
Since joining the Faculty of Engineering, Margaret has shown incredible leadership, problem solving and resilience she brings to the obstacles we have faced this past year in particular. In her role, Margaret built the Emera ideaHUB from an idea on paper into a physical community that has grown to over 100 current participants. The ideaHUB now supports over 54 new startups, that have generated 106 new jobs and secured over $28M in financing in the first two years alone. These are numbers that have continued to grow exponentially even when the physical space that fostered them was taken away. And that growth can be directly attributed to Margaret's leadership.
The Faculty of Engineering, and in particular the ideaHUB community, has been immeasurably strengthened by Margaret's leadership. She is the definition of leading by example. She works tirelessly, has an amazing skill for connecting people who can get things done, and she will be missed.
As transition plans unfold, the HUB remains in the capable hands of Katie Cameron, Dr. Clif Johnston, and Graham Muirhead. Katie recently joined the HUB, and will be the point of contact for all operations and program inquiries. Clif and Graham remain the academic and technical leads respectively. You can get in connect with the HUB by emailing ideahub@dal.ca.