News
»
Go to news main
Event Recap: Engineers Contributions to Healthcare
Posted by
Merilyn Layne
on June 3, 2021 in
News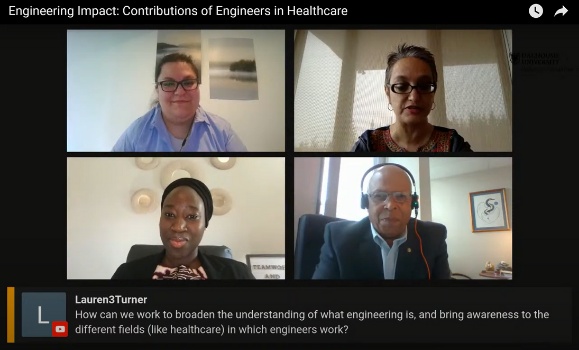 On May 27 the Faculty of Engineering hosted the first event in it's new series Engineering Impact. The live event brought three professional engineers working in the healthcare space together to share their perspectives on their careers and the industry. The three panellists answered questions posed by the student moderator as well as the audience that was tuning in live.
Engineering Impact is a series that features engineers making a positive difference in the engineering industry and in society. These events will showcase the many different career options available for current students, and ensure that the many achievements of alumni and peers are celebrated. It is especially important that through Engineering Impact we increase the visibility of community impact of BIPOC engineers, again to celebrate their contributions and to help younger generations see themselves as engineers.
The COVID-19 global pandemic brought healthcare workers and the healthcare industry to the forefront. While engineering may not be the first profession you think of when you hear healthcare, this event explored just how vital a role engineers play in this area.
Our speakers represented a variety of career paths and career stages. With Bryan Darrell, the Senior Director of Infrastructure and Housing for the province of Nova Scotia, Noreen Kamal, Assistant Professor in the Faculty's Department of Industrial Engineering, and researcher in the area of acute strokes, and Bintou Kaira, a 2018 graduate who is a co-founder of a mobile-based application called GAPhealth. Hosting the event and fielding the questions was Industrial Engineering PhD student Gizem Koca.
If you've wondered what the answers are to questions like: what is the role of engineers in healthcare? What opportunities exist locally, nationally, or internationally in this field? How can BIPOC engineers affect healthcare design? What does the future look like for young BIPOC students looking to pursue this career? And more... you can watch a recording of the event here: https://youtu.be/ir439Z6D5AM
Bryan believes the opportunities are limitless for those considering a career as engineers in healthcare. "There's tremendous opportunity not only in Nova Scotia, or in Canada but on an international basis, because Canada is very much leading the world in many aspects of healthcare." Bryan shared as a response.
When looking at how students can get to the point of considering studying engineering to access these opportunities, getting STEM course in schools is important. The three panelists agreed that there is work to be done in getting STEM into schools, especially schools with higher representation of equity deserving groups. Noreen added, "In order to make science and math and engineering interesting for students is that we need models, we need models that look like this panel, we need to make it interesting and relatable."
As there are many roles for engineers in healthcare there are also many possible beginnings and paths to joining this industry. Bintou decided the healthcare industry is where she wanted to start her career in what she calls a quite unorthodox way. After completing her degree she questioned whether she should go to medical school or do a PhD. "In my mind you need to have a certain skill set before you can do something" she shared and she believes that many students also think that way but it is not always the case. Bintou asked herself the question "What am I trying to do and where am I right now?" and found a way to apply the skills she did have— problem solving. In the end her decision came down to her desire to help many people, saying "How do I solve a problem for many people when I am not there and that is where engineering came in handy".