Events
»
Go to news main
Engineering Impact: Contributions of Engineers in Healthcare
Posted by
Engineering Communications
on May 17, 2021 in
Events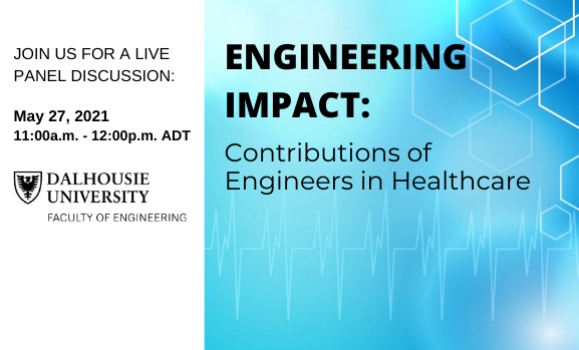 Join Dalhousie's Faculty of Engineering for a live panel event where we highlight the careers and impact of three engineers making waves in the area of healthcare and healthcare infrastructure.
We're excited to welcome Bai Bintou Kaira, Bryan Darrell and Noreen Kamal to share their experiences in the healtcare industry. Our panelists, from a variety of backgrounds and areas of focus in the healthcare industr, will be answering questions about their experiences and the current healthcare environment. There will be a Q&A section where we welcome your questions for the speakers.
Date and Time
Thursday, May 27, 2021
11:00 a.m. - 12:00 p.m.
Location
The event will be livestreamed on Facebook and YouTube. Viewers will have an opportunity to engage during the Q&A portion following the discussion. Although we hope you will join us live, you will also be provided access to the recording following the event.
Registration
Please register for this event through Eventbrite.

Speakers
Bryan P. Darrell- Bryan is the Director, Healthcare Project Services for the Department of Transportation and Infrastructure Renewal, Province of Nova Scotia. His portfolio covers all health-related projects valued over $1 million dollars. This position provides the opportunity to examine infrastructure issues at both large facilities and small community-based outlets. Bryan is known for not hesitating to examine areas of healthcare that could be reworked or improved as well as celebrating newfound areas and improvements.

Bai Bintou Kaira- Bintou is a recent graduate of Dalhousie earning her degree in Chemical Engineering in 2018. Bintou practices as an Engineer-in-Training in the surface operations of a potash mining company. Bintou leads process design and optimization projects to increase quality and yield. Co-currently, Bintou is the co-founder of GAPhealth, where process optimization, people, and project management skills are used to create a successful business on the use of mobile-based applications for chronic disease management in Africa. Additionaly Bintou's areas of interest include diversity and inclusion in post-secondary education.

Noreen Kamal- Noreen Kamal completed her undergraduate degree in Chemical Engineering at the University of Calgary (1994).  She then went on to do a Master's degree in Chemcial Engineering at UBC.  She then worked in industry for over 6 years. She then shifted her career to health care, where she has worked to improve care in emergency departments and stroke treatment.  She decided to pursue her PhD in 2009, which she did at UBC in Electrical and Computer Engineering (2013).  She then worked as a Postdoctoral Fellow and Program Manager at the University of Calgary, where she primarily worked on improving acute stroke treatment processes, which has resulted in reduced disability for stroke patients across Alberta.  She started at Dalhousie University in 2019, as an Assistant Professor in Industrial Engineering.  She is now working to improve acute stroke treatment throughout the Atlantic Provinces through her CIHR funded ACTEAST (Atlantic Canada Together Enhancing Acute Stroke Treatment) Project.
About the Engineering Impact Speaker Series
Engineering Impact is a series that will feature Engineers making an impact in the engineering industry and in society. Increasing the visibility of community impact of BIPOC engineers will help younger generations see themselves as engineers. These events will showcase the many different career options available for current students, and ensure that the many achievements of alumni and peers are celebrated.