News
»
Go to news main
Rayleigh Solar Tech's Future Shines Bright
Posted by
Kathryn Cameron
on April 12, 2021 in
News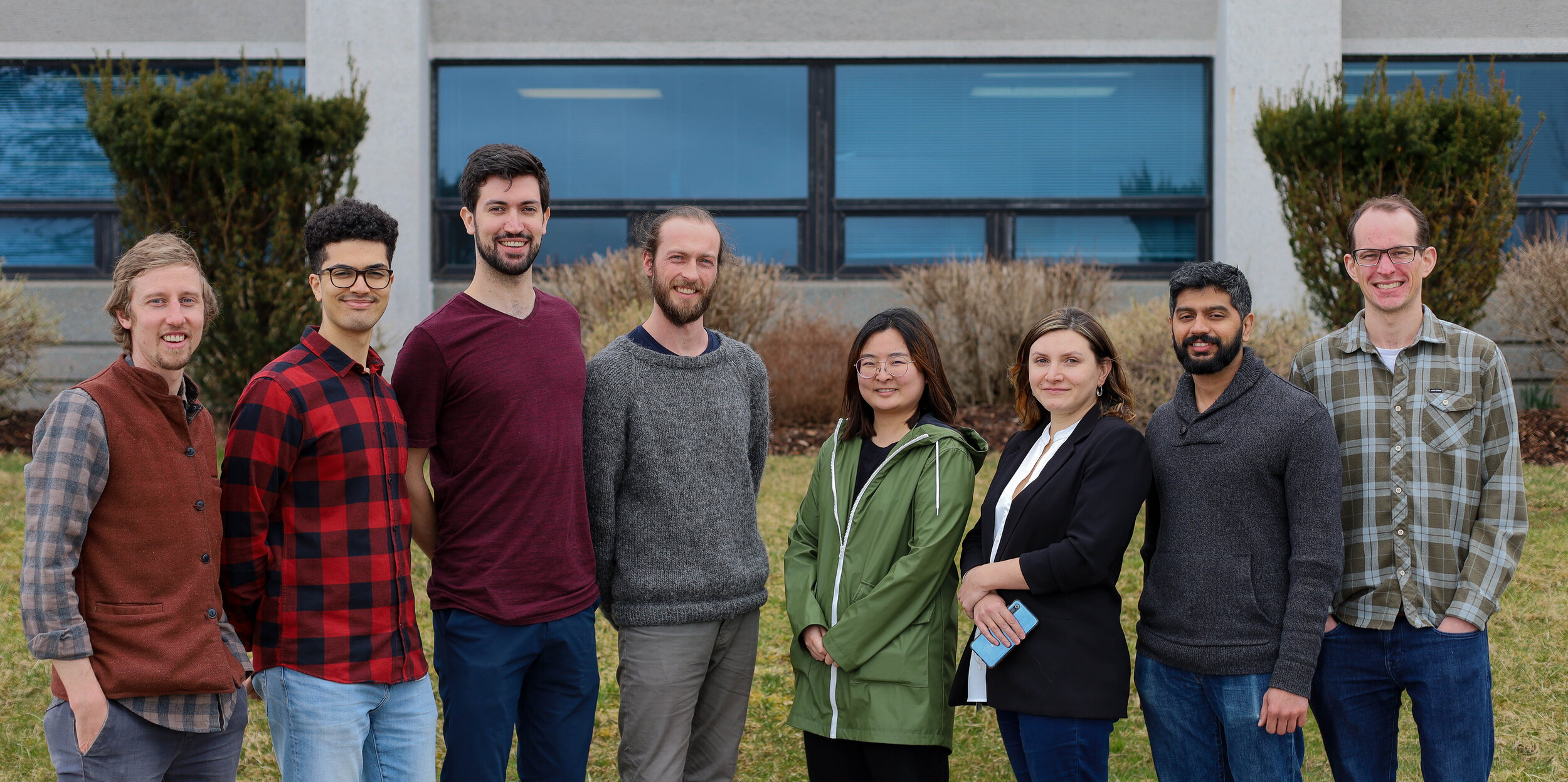 Imagine a world where your car, public transit, and air travel are not just powered by electricity but solar charged by the flexible solar cells that coat their frame. No, this is not The Jetsons, it is in your very near future and Rayleigh Solar Tech is at the forefront of bringing this technology to a vehicle near you.
Rayleigh Solar Tech is the most recent alumni of the Emera ideaHUB, getting their start from a Dalhousie research lab bench.
Founded by Sam March (PhD '19) and Dane George (MASc '16), Rayleigh was born from Sam's passion for solar technology, Dane's engineering acumen and many conversations over the course of their friendship. Dane and Sam met in an electrical engineering class at Dalhousie University 15 years ago and maintained their friendship through several summer carpentry jobs. A friendship forged over long nights in the engineering lab and long days on a job site is a strong base for taking the jump into co-founding a tech startup; it has been a key component in the duo's success.
After finishing their undergraduate degrees in physics and engineering, they both went on to pursue graduate studies. It was during Sam's Masters and then PhD work that he delved deep into researching the capabilities of perovskite solar cells. A technology that is set to revolutionize solar worldwide as it can be manufactured cheaply, and its flexibility enables it to adhere to all sorts of structures.
As he was completing his PhD at Dalhousie Sam recognized the commercial potential of his research. With encouragement and guidance from Jeff Larsen and the Creative Destruction Lab-Atlantic and support from Margaret Palmeter at the  Emera ideaHUB, Sam leveraged the Innovacorp Early Stage Commercialization Fund (ESCF) and funding from the Nova Scotia Department of Energy to advance his early product development. While Sam was focusing on the product, Dane was pursuing his own career working on large solar and wind farm projects, energy auditing of buildings and energy management. It was as the ESCF project was meeting its development milestones, that their friendship lined up with their career aspirations and they decided to join forces to bring revolutionary perovskite solar cells to market.
It was also at this stage that they found themselves without an office and standing in the empty space that would become the Emera ideaHUB. As one of the very first companies to join the BRIDGE residency program Dane and Sam worked on the first table that showed up, using the ideaHUB as home base while they continued to develop their product in the research lab space at Dalhousie.
The company has since grown from the 2 founders that first stepped into the ideaHUB, to a full-time technical team of 9 and several administrative staff. Further leveraging a constant stream of Mitacs funded graduate students and NSBI Voucher projects with Dr. Ian Hill, Raleigh's team continues to grow and advance their R&D in partnership with Dalhousie's research labs.  Rayleigh Solar Tech have raised pre seed funding and are planning for a more substantial raise in the near future. They are within a five-year window of seeing their revolutionary technology deployed in the marketplace.
"The Emera ideaHUB has been instrumental to our success," says Dane, "if it weren't for the HUB team's support the company would not have achieved the same growth. Not only did they give us a home, but they helped refine our 3D printing specifications, and they were invaluable in providing advice in navigating funding programs such as Mitacs, and in structuring our intellectual property agreements with Dalhousie."
"There is a perfect storm of support available to companies like us at Dalhousie," says Sam. "The business training and prototyping at the ideaHUB, the mentorship and access to capital at the Creative Destruction Lab, and the access to world class talent that we need to grow."
Growth is on Dane and Sam's minds all the time these days. They are graduating from the ideaHUB and moving into their own physical space at The Bays at Innovacorp. A space that will launch the next phase of their success with a semi-industrial scale manufacturing pilot plant. In tandem they will be looking to secure strategic partnerships to help guide product development and distribution channels, as well as secure the next round of fundraising that will be needed to sustain the company's growth.
"In many ways, we've picked the hardest road to entrepreneurship," says Dane, "there is a reason so many physical product companies fail. But we know that in five years when we see the first electric vehicle powered by our solar cells drive past us on the street it will all have been worth it."