News
»
Go to news main
Faculty member granted 2021 EIC Fellow
Posted by
Engineering Communications
on December 16, 2020 in
News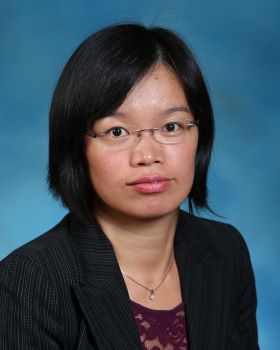 Dr. Ya-Jun Pan from the Department of Mechanical Engineering has been selected by the Engineering Institute of Canada's Honours, Awards and Fellowships Committee to be inducted as a 2021 EIC Fellow (FEIC). Each year, selected individuals nationwide are recognized by the foundation for their excellence in engineering and services to both their profession and society.
Dr. Pan is an internationally renowned expert in robust nonlinear control and networked control systems with successful in-depth applications to tele-robotics, cooperative systems, unmanned systems, industrial automation, and assistive robotics. She has published 130+ articles in leading journals and conference proceedings. Her contributions to the tele-robotics and multi-agent systems have been highly cited in the archival literature. She was awarded the Research Excellence Award at Dalhousie University in 2008-2009, the prestigious Alexander von Humboldt Research Fellowship in 2016 and the Fellow of American Society of Mechanical Engineers (ASME) in 2017.
Ya-Jun has provided dedicated work and leadership in both international and Canadian research communities over the past 20 years, serving as Associate Editors, Guest Editors of IEEE leading journals, such as IEEE Transactions on Industrial Electronics, IEEE Transactions on Cybernetics and IEEE/ASME Transactions on Mechatronics, publication co-chairs and TPC members for numerous IEEE flagship conferences, and NSERC Discovery Grant and RTI evaluation committee members. She has actively promoted Women-in-Engineering activities in IEEE Control Systems and Industrial Electronics Societies, CSME and Engineers Nova Scotia. She is a Senior Member of IEEE and has served as the Vice President of Atlantic Region for CSME.
Dr. Pan is a distinguished teacher and mentor for Mechanical Engineering students and EITs. She has trained over 65 HQP who have joined industry or academia making great contributions to the engineering society in Canada and worldwide.
"I am very honored to be inducted as a fellow of the EIC. This won't be possible without the consistent support and mentorship from the Mechanical Engineering department, the Faculty of Engineering and the University where I started my career as an Assistant Professor 16 years ago at Dalhousie University."
 "Over the years, I enjoy teaching and mentoring our mechanical young engineers; and enjoy the journey doing research in control and robotics with my brilliant graduate students. Especially it is very satisfying to see that students succeed and make great contributions to the profession in industry and academia."
You can read the EIC awards release here.