News
»
Go to news main
Empowering future leaders
Posted by
Fallon Bourgeois
on August 10, 2020 in
News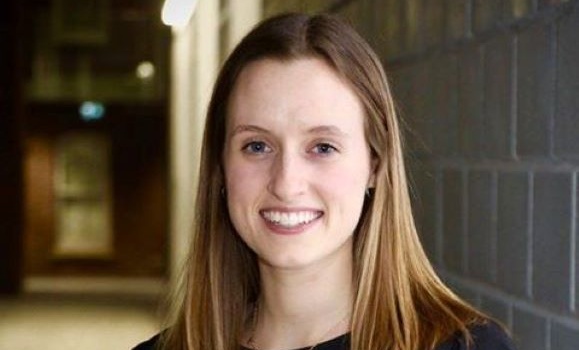 Megan Fudge was inspired by several of her female high school teachers to pursue a degree in engineering.
"My Math and Science teachers noticed my strength in those areas and really encouraged me to consider engineering. It wasn't on my radar, so it's likely that I would not have chosen it if not for their guidance," says Megan, who grew up in St. George, N.B "I'm grateful for their recognition of my skills and abilities that put me on the path to becoming an engineer."
As Megan's studies have progressed from St. Francis Xavier University, where she received a Diploma in Engineering after two years, to Dalhousie, where she is completing her bachelor's degree with a focus on electrical engineering, she has received continued encouragement and support in many forms. Including an Irving Oil Scholarship. The scholarship is particularly lucrative for students because it also comes with an option to do a co-op placement with the company.
"Receiving a scholarship alone is such an exciting accomplishment and to have a co-op placement as part of the scholarship is huge," says Megan. "Seeking out co-op placements is time consuming—you have to research places you'd like to work, apply and then do interviews. It can be a lot to balance in a demanding program like engineering.
"Being offered the co-op placement with Irving Oil was one less thing to worry about during a time of transition," says Megan, referring to her switch from St. FX to Dal between second and third year.
Investing in tomorrow's leaders
Irving Oil established the scholarship at Dalhousie with a $2.2 million gift in 2017 as part of the IDEA Project. As long-time supporters of the university, Irving Oil's investments have made an incredible impact on learning by supporting future leaders right here in Atlantic Canada. And that's something Megan values.
"It's important for me to see how companies I work with, and potentially those that I could work with in the future, invest in their communities and future generations by supporting education."
Real-world learning
Megan's co-op placement with Irving Oil, which she began last fall, was her third placement. It provided crucial learning opportunities and exposed her to a different environment than her previous placements.
"I would recommend doing a co-op to any student who has the option. It's so worthwhile and gives you valuable experience not only for within the workplace, but also in the way you approach your course work." She continues, "Personally, it inspired me to be really engaged in class and interested in how I could take what I learned and apply it in a real-world setting."
Charting her path
As Megan nears the end of her degree, she doesn't have all of her future plans worked out and is also mindful of how the current COVID-19 pandemic will impact employment opportunities. But rather than focusing on where she is going to work, Megan is mindful of what she values in a workplace. A lot of which she learned through her co-op opportunities.
"I obviously want to find a job where I enjoy the work. It's also important to me to be surrounded by driven people who give back and make a difference in their community. All of my co-ops have had that, and it creates a positive environment, which is what I want for myself in the future."