News
»
Go to news main
NEW SCHULICH LEADERS SET TO SHINE
Posted by
Alyson Murray
on October 30, 2017 in
News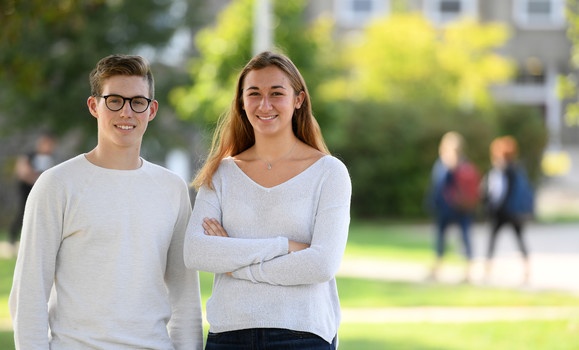 Of the thousands of new students who join the Dal community each year, two arrive as recipients of a Schulich Leader scholarship — one of the most generous awards of its kind in the country.

Dal is one of 20 Canadian universities partners in the Schulich Leader program, which provides a scholarship to one incoming engineering student and one incoming student in a STEM (science, tech, engineering, math) program each year.

Valued at $100,000 and $80,000 respectively, the awards provide complete financial support to the recipients and connect them to a network of top students and young alumni across Canada.

This year's Dal recipients, Brad Jones of Yarmouth, Nova Scotia, and Kate Arpin of Uxbridge, Ontario, say they are both already feeling at home on campus.
A Busy Year Begins

Brad, recipient of the engineering award, says he applied to Dal because he was looking to stay in the Atlantic region.

"I was drawn to Dal because of the four-year engineering program and also because I have a network of people I already know in the city," he says.

While maintaining a busy schedule as an engineering student, he's already finding ways to get involved.

"Through residence and my program, I've already met classmates from across Canada and around the world. Everyone has been really friendly and easy to talk to," he says.

With a track record of athletic, community and academic achievement, Brad has big plans for his first year.

"I'm looking forward to intramurals, playing baseball and also getting involved with the engineering society and my residence community. It's going to be a busy year but a great year," he says. 
A Passion for Research

Kate, who received the STEM-related award, says she was drawn to Dal because of its proximity to the ocean and the opportunities for undergraduate students to get involved in research.

"After visiting campus I realized that Dal is where I want to be," she says. "It's a great school, it has a great science program with lots of opportunities for undergrads to get involved in research, and it's one of the only universities that has marine biology, ocean science and biology."

Having led a team of students through an extracurricular research project for the last two years in her hometown, Kate was drawn towards the Integrated Science program and plans to major in marine biology or ocean science.

"I'm passionate about looking at climate change and the oceans; figuring out what we can do, what impact we can make, and doing my part to help the world," she says.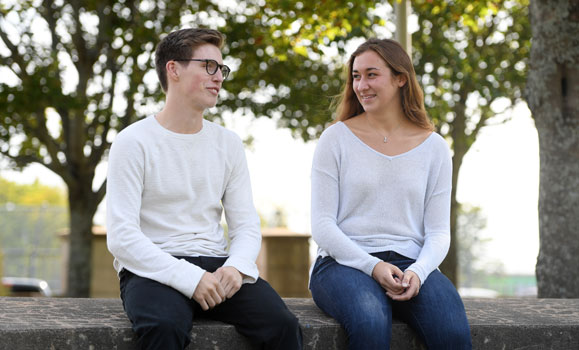 Recognizing Achievement

Katie MacDonald, Dal's assistant registrar, awards, says applications to the Schulich Leaders program are always very strong.

"We look forward to welcoming our incoming Schulich Leaders each fall, and I'm confident that Kate and Brad will make positive contributions to the Dal community over the next four years," she says.

"Being able to recognize the high levels of academic achievement and community involvement demonstrated by these students is a highlight of our awards program."

For more information about the Schulich Leaders scholarship program, visit schulichleaders.com.