News
»
Go to news main
Dalhousie Engineering Hosts Capstone Conference
Posted by
Engineering Communications
on March 31, 2017 in
News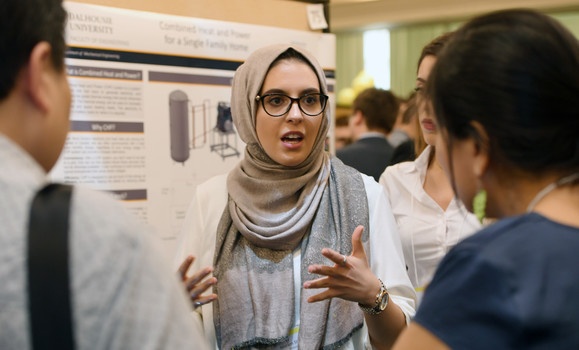 March is National Engineering month in Canada, and engineers from coast to coast are celebrating the importance of careers in engineering.

At Dalhousie University, senior students within the Faculty of Engineering got a chance to show off their future career potential at this year's Dalhousie Engineering Capstone Conference (DECC).

The Capstone Conference is the largest event for the senior year classes, incorporating all engineering disciplines within the faculty. The conference gives students the opportunity to showcase how their Capstone Projects integrate course work and engineering design skills to provide innovative solutions to local industry partners.
Originally known as the Design Expo and Poster Competition, the event revolutionized this year with a new name and a new venue location.

"When we began planning for this year's Design Expo, the newly begun campus renovation meant there was some uncertainty about the availability of Sexton Gym, where we usually hold the event. This led to a brainstorm of how we could change the event, and we realized that by moving offsite we could make the event bigger than before." says Sandra MacAulay Thompson, member of the Faculty of Engineering's "Engineers in Residence", and one of the co-organizers of this year's Capstone Conference. "We decided to add formal student project presentations to the day so that it had the look and feel of a day-long conference."
All engineering students participate in an eight-month Capstone Project in their final year of studies. At the beginning of the academic year, students are placed into teams and are assigned industry or community based projects. Each team works with their client or mentor to solve specific real-life challenges. Most projects are sponsored by clients from industry.

 "Industry-sponsored capstone projects give our students a chance to apply their engineering skills to problems that are similar to what they will face as practising engineers," says Thompson. "These are open-ended problems with many technical and economic factors to consider. Tackling these types of projects build student confidence and exposes them to the challenges of working in industry."

This year Dexter Construction Company Limited partnered with a group of industrial engineering students to look at improving their snow removal operations.

The team of students, which consisted of Tate Linzel, Angus Nelson, Matt Shannon and Matt Lyttle, worked together to improve operations in areas such as scheduling, shift change processes, routing and resource utilization.

"Organizations get to see firsthand the abilities of students, and gain from their innovative thinking and sharp skillsets with minimal cost or risk," says Michael Parrott, a Project Manager at Dexter Construction. "The opportunity is equally beneficial for students to contribute and gain experience on a real-world project as they prepare to enter the workforce as junior engineers."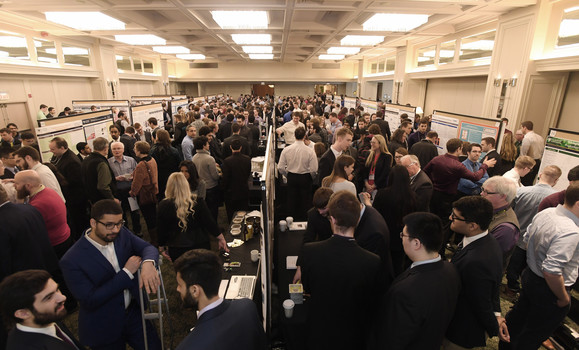 The Dexter Snow Removal Project was one of approximately 98 projects that were on display at this year's Capstone Conference. Like past years, the conference included a poster competition where 48 industry judges assessed each student project based on a variety of criteria including detailed project analysis, student professionalism and overall presentation.

As judges moved from project to project, hundreds of other members from the engineering community squeezed into the Westin's largest ballroom to learn more about how the next generation of engineers were making an impact on their community.

Student posters ranged from the "Dartmouth Cove Master Plan Project," a project designed to establish streets and sewer infrastructures for the new development of a Halifax Regional Municipality neighbourhood; to a group of students set to power a single family home using a fuel cell and ethanol reforming.
"The Capstone Conference is an exciting way for students to showcase their work to their fellow students, faculty, industry and the public. By highlighting these projects, we hope to generate interest in the Capstone Program: creating new opportunities for companies to support engineering education, and in turn helping those companies solve some of their tough engineering problems," says Thompson.

With the launch of the IDEA Project set to transform Dal's Sexton Campus and Halifax's emerging innovation district, the Capstone Program is another great example of how Dalhousie's Faculty of Engineering is growing strong ties with local industry, and developing partnerships that enhance and strengthen the future of the Halifax community. 

Interested in getting involved?
Do you have a design problem that needs a solution? If you or your organization would like more information about the Capstone Program, please contact Dr. Clifton Johnston at Clifton.johnston@dal.ca or 902.494.8985

2017 Capstone Conference Poster Winners
The Faculty of Engineering would like to thank all the companies and supporters that provided the projects and exceptional learning experiences for our senior students. Below are the winners of this year's Capstone Conference Poster Competition.

DALHOUSIE UNIVERSITY FACULTY OF ENGINEERING AWARD OF EXCELLENCE FOR BEST CAPSTONE POSTER IN CIVIL ENGINEERING:
"6-Storey Wood Building" by Spencer Collier-Jarvis, Zachary Henry, Lindsay Kehoe, Keith Porter

NSERC CHAIR IN DESIGN ENGINEERING AWARD OF EXCELLENCE FOR BEST CAPSTONE POSTER IN ELECTRICAL & COMPUTER ENGINEERING (01):
"Improved Noise Shaping Digital Delta Sigma Modulator" by Brett Chiasson, Brendan Lane, Paddy Quinn

NSERC CHAIR IN DESIGN ENGINEERING AWARD OF EXCELLENCE FOR BEST CAPSTONE POSTER IN PROCESS ENGINEERING AND APPLIED SCIENCE:
"Dartmouth Fish Passage Between Sullivan's Pond and the Halifax Harbour" by Sarah Borden, Sabrina Hiefer, Marie Adrianne Imperial, Yujie Lang

"Expanding Nova Scotia's Sustainable Energy Development by Utilizing Decommissioned Quarries" by Caroline Forbes, Mitch Gammon, David MacDonald, Nicole Westeinde

SHELL AWARD OF EXCELLENCE FOR BEST CAPSTONE POSTER IN INDUSTRIAL ENGINEERING:
"Process Automation and Standard Operating Procedures" by Ahmed Rayyan, Amer Hussein, Arsalan Ali, Sudarsan Adhikari
SHELL AWARD OF EXCELLENCE FOR BEST CAPSTONE POSTER IN MINERAL RESOURCE ENGINEERING:
"Preliminary Scoping Study of a Au-U-Y Straitiform Paleoplace Quartz-Pebble Conglomerate Deposit, Shubenacadie Area, Nova Scotia" by Eric Pushie, Mark Webb, Michael Forsyth and Mitchell Carter
MICHELIN AWARD OF EXCELLENCE FOR BEST CAPSTONE POSTER IN ELECTRICAL AND COMPUTER ENGINEERING (00):
"Inertial Based Fall Detection Device" by Frederick Porter, Joel Atkinson, Mason Baker and Miguel Morales
MICHELIN AWARD OF EXCELLENCE FOR BEST CAPSTONE POSTER MECHANICAL AND MATERIALS ENGINEERING:
"Automated Ring Removal Device" by Patrick Hennessey, Mason Landry, Brad MacKeil, Cal Thompson.