Moustapha Keïta‑Diop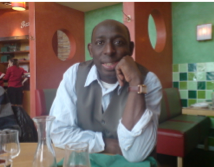 Dr. Moustapha Keïta-Diop is a professor and Dean for the Faculty of Social Sciences at l'Université Général Lansana Conté de Sonfonia Conakry. After earning his doctorate in the sociology and anthropology of development, he founded the Master's program in Social Actors and Local Development, and a social anthropology research lab: Laboratoire d'Analyse Socio-Anthropologique de Guinée (LASAG)-UGLC-Sonfonia. He approaches his research and teaching engagements through the lens of the social anthropology of development, with two primary domains of expertise: health and problems related to real-estate and property. He is currently engaged in numerous research endeavours, such as the fight against the Ebola epidemic in Guinea, focusing primarily on understanding global vaccine logics in the context of Ebola in Guinea. This research is undertaken in collaboration with Dr. Janice E. Graham (Director of TRRU, Faculty of Medicine, Dalhousie University).
Dr. Keïta-Diop is both a founder of and independent consultant for Guinea Land Consulting, an organization providing real-estate advice regarding questions of local development in Guinea. Currently, he is in charge of putting in place a framework for financing agricultural and rural communities in Guinea on behalf of the Ministry of Agriculture, with support from l'Agence Française du Développement (AFD). He lectures on real-estate and related problems of property development and ownership at l'Institut d'Études du Développement Economique et Social (IEDES), at the Université Paris I Panthéon-Sorbonne. He is also an associate researcher for IEDES with l'Unité Mixte de Recherche 201, "Development and Society."  Dr. Keïta-Diop is a UNESCO chair, focusing on issues of development. He is also an active member of the West African Social Sciences and Humanities Ebola Network (Réseau Ouest-Africain en Sciences Humaines et Sociales Ebola).
Selected publications
Diop, M. (2017). Femmes et Terres en République de Guinée, Nouvelle Edition, revue, corrigée et augmentée. Panafrika/Silex Nouvelles du Sud.
Diop, M. (2007). Réformes foncières et gestion des ressources naturelles en Guinée. Enjeux de patrimonialité et de propriété dans le Timbi au Fouta Djalon. Paris: Karthala Editions.
Bangoura, M. T., & Diop, M. (2007). Enjeux et défis démocratiques en Guinée (février 2007-décembre 2010) : actes du colloque, Paris, le 22 juin 2007. Paris : L'Harmattan.
Bangoura, D., Bangoura, M. T., & Diop, M. (2006). Quelle transition politique pour la Guinée. Paris : L'Harmattan.
Faculty of Social Science 
Université Général Lansana Conté de Sonfonia Conakry, Guinea.