Ross Traverse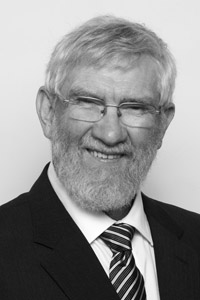 As an agricultural specialist, Ross Traverse's outstanding gift is his ability to engage people with horticulture. From Ministers to the home gardener, all have benefitted from Ross' dedication and contributions to this industry.
Ross was born in 1944 in the small community of Loon Bay, Notre Dame Bay. He left Newfoundland and Labrador to attend the Nova Scotia Agricultural College, where he completed his diploma in 1964. He continued his studies at Macdonald College of McGill University, graduating in 1966 with a Bachelor of Science in Agriculture. Ross' keen interest in education led him to complete a Masters in Agriculture from Guelph University in 1970. He graduated with a Major in Plant Nutrition and a Minor in Extension Education Methods, which would serve him well during both his career with government and his personal commitment to his fellow producers.
Upon completion of his formal education, Ross returned to Newfoundland and Labrador, where he began his nearly two-decade career with the provincial government. He was employed with the Department of Forestry and Agriculture, first as a Horticulturalist in 1970, as Director of Crop Production in 1971, and as Director of Extension in 1972. In 1978, Ross became the Crops Coordinator (Horticulture and Agronomy) with the Department of Fisheries, Food, and Agriculture.
Ross became well-known for his expertise in peat soils. While in the public sector, he developed methods for producing landscape sod on peat soils, and was instrumental in establishing the first commercial peat turf farm in the province. Ross drew upon his knowledge of Scandinavian systems to create a commercial peat excavation system for use in producing peat based soil mixes. In the private sector Ross consulted on industrial uses of peat moss, including projects in Egypt and the Caribbean.
As a champion of horticulture, Ross left his mark on the province of Newfoundland and Labrador. He helped introduce new crop varieties to the province's unique climate, acted as a mentor to greenhouse growers, and taught courses and workshops on horticulture. He became a trusted advisor to senior government officials on agricultural policy and initiatives as related to the horticultural sector.
Ross' most notable and arguably greatest contribution is as the province's expert on growing plant life in Newfoundland and Labrador's cool climate. Untold numbers of home gardeners and farmers have benefitted from his on-call willingness to assist growers with all things related to gardening. For over 40 years, Ross has responded to questions on production, insects, and harvesting, culminating in his 2006 book Ask Ross Traverse About Gardening: Practical Advice for Gardeners in a Cool Climate, now in its second printing. As the province's go-to gardening expert, Ross appears regularly on CBC radio's Gardening Crosstalk, and VOWR Community Radio. His columns appear monthly in Downhome magazine, and feature in Deck's Awash and the Evening Telegram.
In 1995 Ross retired from public service, giving him the opportunity to focus on the growth of Traverse Gardens, his own ornamental greenhouse business in Torbay. Ross has been well supported through his career and retirement by his wife Marcie and two children, Charles and Susan.
As a horticultural consultant, Ross continues to engage the public. For his dedication to his profession, he was awarded Lifelong Membership in the Canadian Society of Extension in 1995, recognizing his indelible impact on agriculture in the province.
Nominated by Landscape Newfoundland and Labrador for his exceptional promotion of horticulture, Ross Traverse is indeed a deserving inductee to the Atlantic Agricultural Hall of Fame.