Donald R. Sobey
Who is Donald R. Sobey?
"I have a long history with both Dalhousie and WWF. It became clear to me that collaboration between our brightest young minds and our leaders in conservation is the key to solving some of the great challenges in our oceans. And that's a goal that I share with both Dalhousie and WWF."
Donald Sobey, The Donald R. Sobey Foundation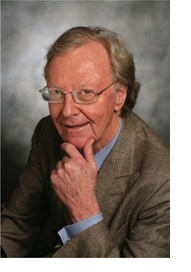 Donald R. Sobey is Chair Emeritus of Empire Company Limited. He is the founder of the D&R Sobey Scholarship Fund at Queen's University, and a member of the Trilateral Commission and the Tate Americas Foundation (Tate Museum UK). Mr. Sobey has served as a director of Sobeys Inc. since 1998 and of earlier Sobeys companies beginning in 1963. Mr. Sobey was President of the Company from 1969 until his appointment as Chair in 1985. He was Chair of the Company until his appointment as Chair Emeritus in 2004. He is also past Chairman of the National Gallery of Canada, past Chairman of Maritime Tel & Tel and past director of the World Wildlife Fund. Mr. Sobey previously served as a director of the following publicly traded companies: Toronto-Dominion Bank; Alliance Atlantis Communications Inc.; High Liner Foods Limited; and Trader Classified Media NV. Mr. Sobey holds a Bachelor of Commerce degree from Queen's University. He also received honourary degrees from Dalhousie University, Mount Allison University, St. Francis Xavier University, the University of King's College, the Nova Scotia College of Art and Design and the Nova Scotia Community College.
This text has been drawn from the complete list of biographies for Sobeys Inc.'s Board of Directors and Officers (external site)