Fish-WIKS News
»
Go to news main
Steering Committee Meets in North Bay, On
Posted by
Laura Addicott
on January 5, 2015 in
News
The fourth in-person Fish-WIKS Steering Committee took place at the Hampton Inn, North Bay, Ontario, October 15 – 17, 2014.  With representatives from all four Fish-WIKS regions (BC, NU, ON and NS)  in attendance.
The Steering Committee travelled to Nipissing First Nation (NFN) for a meet & greet with community representatives, which started off with a smudging ceremony led by Elder Peter Beaucage. The Fish-WIKS team thanked Chief Marianna Couchie for her community's support and presented her with a framed image of the project logo.
Coming at close to the mid-point of the five-year project, members had the opportunity of hearing first hand from representatives of each region on the progress being made towards achieving the research project's objectives. The progress was clearly identifiable at both the academic and community level with all communities and non-academic partners being fully engaged in Fish-WIKS as well as the coming on-stream of four Master's and five PhD students into the program.
The meeting provided valuable guidance on a number of key issues integral to Fish-WIKS collaborative philosophy. Topics for substantive discussion included the principles guiding the practice of knowledge acquisition, actual knowledge acquisition and use under the Fish-WIKS framework. To that end, a research ethics guidance rubric developed by team members  was agreed upon that exceeded the guidance provided in the conduct of typical academic research protocols. As researchers develop experience in the use of the guidance document when conducting research with communities, feedback for its improvement will be solicited. For a copy of the Guidance documents, please contact the Fish-WIKS Coordinator.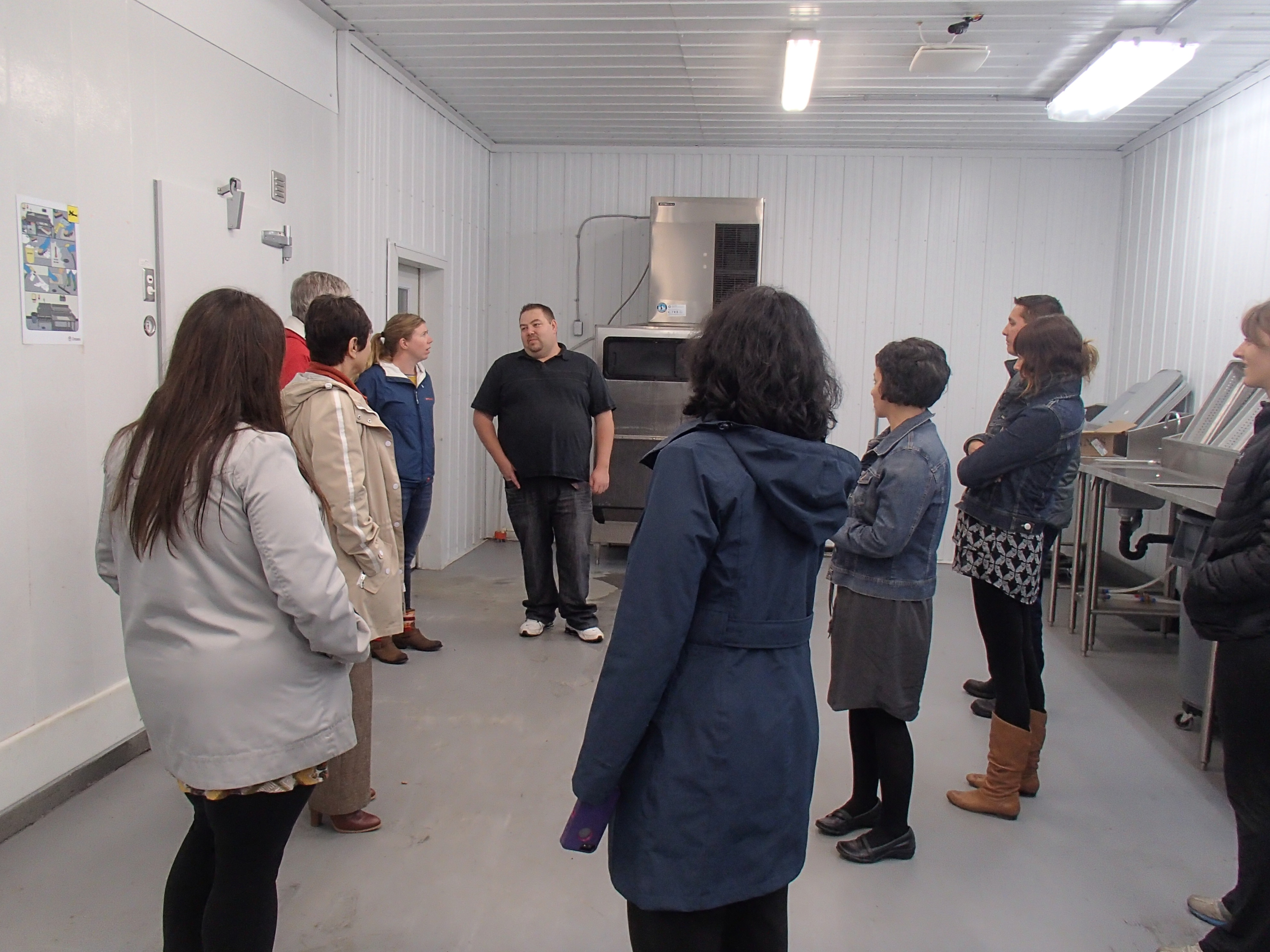 Steering Committee members visit NFN community facilities.
Two other key areas of discussion focused on knowledge mobilization and factors for measuring success. In the case of knowledge mobilization, each region shared efforts to date that ranged from community events across all regions to working with artists and key stakeholders such as the Wildlife Management Board in Nunavut. Use of communication and other knowledge mobilization tools available through partners was also a common tool used to share knowledge across all four regions. The members also reported on novel tools such as inclusion of Fish-WIKS research findings in high school curricula and in the use of videography and static exhibits and displays in Ontario. The sharing of Fish-WIKS research at a variety of academic and Indigenous-driven conferences and meetings was also used extensively  by team members. Members also identified future events and tools for increasing knowledge mobilization. One example cited was to participate in the UN Permanent Forum on Indigenous People in May 2015 in New York.
In terms of identifying success factors and indicators to track, the Fish-WIKS Steering Committee identified capacity building, knowledge sharing and process as key areas in which success should be measured. The range of indicators reflected the collaborative nature of the Partnership and spanned measures of increasing empowerment in the form of decision-support tools, mechanisms to track use/misuse/loss of meaning arising from translation for both western and indigenous knowledge and a clear understanding of where and who makes decisions and how indigenous knowledge is used in decision making by a range of actors, including governments and the private sector.
Finally, given the mid-point timing of the meeting, members discussed the subject of the future of Fish-WIKS, focusing on the policy implications of the knowledge acquired over the duration of the project. Topics ranged from influencing the setting of priorities among the academic and non-academic partners of the project itself as well as in governments, industry, communities and other academic institutions The key two questions centred around "How will we change as a result of the project?" and "What will we change as a result of the project?"