Marines: Is an amphibious capability relevant for Canada?
Edited by Ann L. Griffiths and Kenneth P. Hansen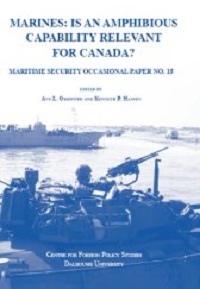 ISBN: 978-1-896440-56-9
$15.00 CDN (plus S&H)
This book examines whether an amphibious capability is relevant and useful for Canada. It includes three chapters by three authors with different perspectives on the subject. The first chapter, "Marines: Which Countries Have Them and Why?" by Ken Hansen, examines the variety of marine (and naval infantry) organizations around the globe and considers their utility for the Canadian Navy. The second chapter, "The Need for an Amphibious Force for Canada" by Gilles Couturier, argues that an amphibious capability is "an operational requirement" for Canada. The final chapter, "The Proposed Amphibious Ship Purchase" by Matthew F. Plaschka, argues that such a capability would be "a strategic misstep" for Canada. The book also includes an extensive list of references on the subject of amphibious capability.
Please contact the centre to purchase a copy.