Research
Our research program includes both primary studies and evidence synthesis studies, all examining low back pain prognosis and management. To request more information about any of these studies, please use our "Contact Form."
Primary Studies
RECENTLY FUNDED: Hayden JA, Kiepek N, Ogilvie R, Stanojevic S, Taylor H, Asbridge M, Jackson L, Stewart S, Furlan A, Stewart S, Yadav K, Parkash R, Campbell S, Grant DAG, Ellis J, Singh S, Purcell A. Opioid use after first prescription for low back pain in the emergency department. Canadian Institutes of Health Research, Project Grant Fall 2020 Competition.

This project will describe opioid use through analysis of participant and health system data and identify subgroups of people with low back pain who present to the emergency department who have different patterns of opioid use and pain intensity. We will be collecting and integrating individual experiences and perspectives with what is known about opioid use and misuse. Work on this project will start in late 2021!

This project was recently featured in Dal news! 
A clinical decision support tool for diagnostic imaging use for low back pain (ONGOING: CIHR 2017-2022) ('Red Flags for Low Back Pain' Study)
The objective of this CIHR funded research is to develop a tool to help doctors make appropriate decisions about the need for diagnostic imaging for patients with low back pain (published protocol). In most cases, low back pain resolves without needing diagnostic imaging (x-ray) and with little treatment. Yet, diagnostic imaging is frequently used for low back pain contrary to recommendations from clinical guidelines. This is despite evidence that diagnostic imaging is of limited value in most cases — exposing patients to unnecessary radiation, increasing health services use and worsening patient outcomes. Currently, no clinical decision support tool is available. Few studies have evaluated red flags, contributing to inconsistent recommendations across guidelines. A clinical decision support tool will improve the delivery of appropriate clinical care, and create opportunities for improving patient outcomes and reducing healthcare costs.
We are currently recruiting 4,000 low back pain patients from six Canadian emergency departments (Nova Scotia: QEII, Dartmouth General, Hants Community Hospital, Cobequid Community Health Centre and Ontario: Ottawa General Campus, Ottawa Civic Campus), assessed at their emergency department visit, then 3 and 12-months afterwards. We will develop a statistical model to determine which low back pain patients should or should not receive diagnostic imaging. We will then work with clinicians and hospital administrators to convert the statistical model into an easy to use clinical decision support tool. The tool will enable quick and accurate assessment of the need for diagnostic imaging for low back pain patients.
Reducing inappropriate diagnostic imaging for low back pain in the QEII emergency department (COMPLETE: TRIC 2017-2019)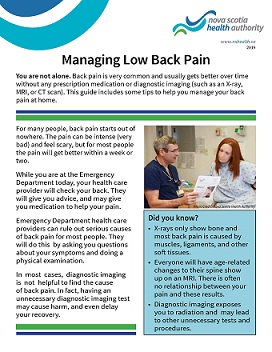 Clinical guidelines are available that describe characteristics of serious-cause low back pain (primarily fracture or cancer) where diagnostic imaging is appropriate. Yet unnecessary imaging remains common, exposing patients to radiation, increasing health services use, and leading to worse patient outcomes. At the QEII ED, 30% of patients diagnosed with non-specific low back pain receive diagnostic imaging.
This TRIC-funded project is implementing a multifaceted, sustainable intervention in the QEII ED that supports the appropriate ordering of diagnostic imaging for patients with low back pain. We are working to address specific local barriers and facilitators of physicians' use of guidelines through strategies including provider education, patient communication/ education materials, and organizational supports. We are using a multi-methods approach: interrupted time series study design using administrative data will measure diagnostic imaging rates; and qualitative methods (focus groups, key informant interviews, and observation) assesses process outcomes. 
Through this project, we have worked with partners in physiotherapy and emergency medicine to develop an NSHA low back pain patient education brochure.
Opioid use following opioid prescription for non-specific low back pain in Nova Scotian emergency departments (COMPLETE: CRISM and TRIC 2018-2019)
In a 2017 study at the QEII ED in Nova Scotia, our team found that 34% of patients received an opioid for their non-urgent low back pain and 38% received a prescription for an opioid upon discharge. New opioid prescription for acute pain in chronic recurrent conditions such as low back pain may contribute to long-term opioid use and harms. 
This development project will collect and assess preliminary data on the extent of long-term opioid use following a new opioid prescription for back pain in our Canadian ED setting. This project brings together leaders from the scientific and knowledge user communities to ensure planning a relevant and scalable research program. Our knowledge-user partner organizations include the NSHA, the College of Physicians and Surgeons of NS (CPS-NS), and the NS Department of Health and Wellness. Our research support partners include the PMP; HDNS; the Maritime SPOR SUPPORT Unit (MSSU); Dalhousie University UGME and Dalhousie University Department of Emergency Medicine. This foundational work will enable the team to produce a robust protocol for a project that will develop a decision support tool to inform appropriate opioid management for patients with low back pain in the ED.
Evidence Synthesis & Translation Studies
RECENTLY FUNDED: Hayden JA, Riley RD, Macedo L, Furlan A, Stewart S, Ogilvie R, Wood L, Taylor H, Boulos L, Chou R, Qaseem A, Lasserson T, Fortier I. What works for whom? Individual participant data network meta-analysis of exercise for persistent low back pain. Canadian Institutes of Health Research, Project Grant Spring 2020 Competition.
This funding will support a low back pain initiative that will include two exciting projects: 1. the implementation of a new model of systematic review [network systematic review (NSR)] using the Cochrane review 'Exercise therapy for chronic low back pain', and 2. an IPD-NMA project using trials from the Cochrane review - a project that will include the development of an accessible dataset for low back pain exercise trials. Work on this project will begin in sring, 2021.
COMPLETE: Individual recovery expectations and prognosis of outcomes in non-specific low back pain: Prognostic factor exemplar review
This project explored the relationship between individual recovery expectations and outcomes in adults experiencing low back pain. We used systematic review methods to identify all relevant studies that have been published, and have extracted data from each study. Prognostic factor review is a new area of research. We are also exploring the best ways to conduct this type of research synthesis, including different literature search strategies and ways to assess the quality of studies included in the review.
UNDER REVIEW: Exercise therapy for chronic low back pain [PDF]
This project is a large Cochrane review of the effectiveness of exercise therapy for the treatment of chronic low back pain. This review explores the types and characteristics of exercise programs (e.g., delivered as group or as individual programs; supervised or unsupervised) and assesses pain and function outcomes to determine the exercise interventions that are most effective in the management of low back pain. This review includes more than 200 studies and will serve as the pilot for a new systematic review approach, Community Systematic Reviews.
For more information about the evidence synthesis work of the team, please see the Nova Scotia Site of Cochrane Canada or the Cochrane Prognosis Methods Group websites.