Congratulations to our 4th Annual Dalhousie Top Co‑op Award Winners
»
Go to news main
Posted by Allison Auld on July 20, 2020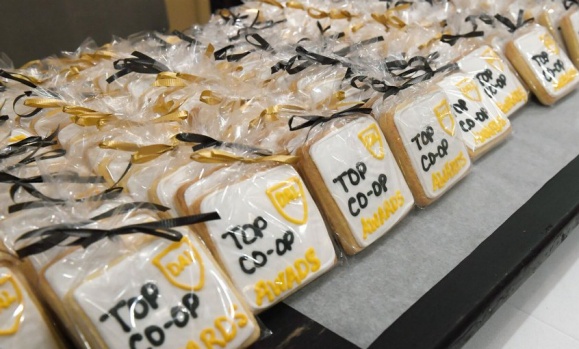 As with many other events this year, the fourth-annual Dalhousie Top Co-op Awards was officially postponed back in March 2020, just as the pandemic made it impossible to gather together. 
Since an in-person event seems unlikely for some time, it remains important to us that we recognize our student and employer winners, even if it's done virtually this year. This is our opportunity to thank those who support the co-op program by providing meaningful work experiences to our students, while acknowledging just a few of our brilliant students.  
Without further ado, we are pleased to share the winners of this year's Top Co-op Awards!
TOP CO-OP STUDENTS OF THE YEAR
As nominated by their co-op employer. Read more about our student winners.
Faculty of Science  | Gayathri Ponneri, Biology
Faculty of Engineering  | Nicole LeRoux,  Civil Engineering 
Faculty of Computer Science  | Alicia Wong, Computer Science
Faculty of Management  | Kara Feeley, Bachelor of Commerce 
Architecture  | Laure Nolte, Bachelor of Environmental Design Studies

Planning  | Kristen Bartmann, Master of Planning  
TOP CO-OP EMPLOYERS OF THE YEAR 
Presented to ten industry categories based on student nominations.
Architectural Services: 
Diane Choih, Ann Beha Architects 
Energy & Resources:
Kent Taylor, Imperial Oil Ltd 
Engineering Services: 
David Mackenzie, Lockheed Martin Canada 
Financial Services 
Aadil Abdulla, RBC 
Information & Communications Technology 
Kimberly Poffenroth, Urban Analytics 
Management Consulting 
Nadine LaRoche, Trampoline 
Manufacturing 
Jason Spears, Port Hawkesbury Paper Ltd. 
Public Sector & Non-Profit 
Suresh C. Jaisingh, Canada Post Corporation 
Research & Development 
Kenji Kojima, TRIUMF 
Retail & Consumer Packaged Goods 
Tom Kaniak, J.D. Irving Limited – Irving Consumer Products 
EMERGING EMPLOYER OF THE YEAR AWARD
Recognizing employers new to Dalhousie's co-op programs within the past three years. 
Winner: EnPoint
Finalists: Heritage Trust of Nova Scotia, RGH Inc. Chartered Professional Accountants 

LEGACY EMPLOYER OF THE YEAR AWARD 
Recognizing employers who have been active and supportive in Dalhousie's co-op programs for a minimum of five years.
Winner: RBC Financial Group
Finalists: Emera Inc., Gracenote

The Dalhousie Top Co-op Awards event is a joint collaboration between Dalhousie's Management Career Services,  Science, Information Technology, Engineering Co-operative Education and the Faculty of Architecture and Planning and the awards honour both our co-op students as well as the employers who hire them each year.