Adult Education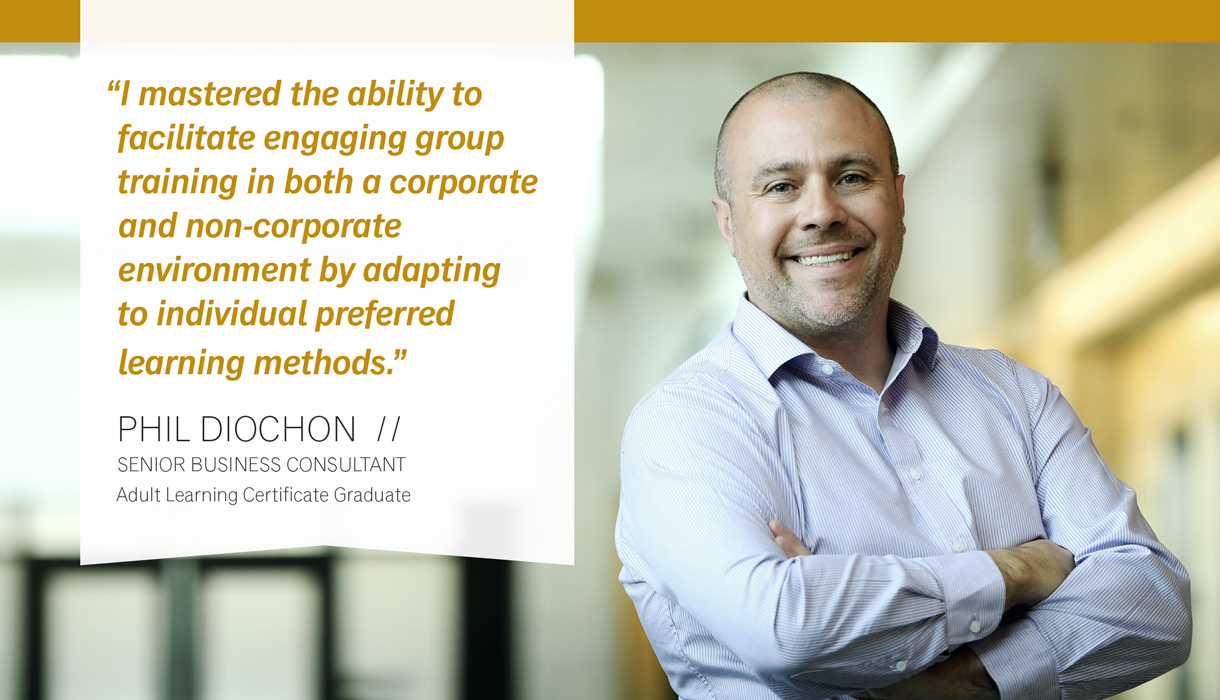 Dynamic and creative professional development
Meet the challenges of today's learning environment with our adult and continuing education programs. Developed by experts in the field and delivered in interactive, face-to-face sessions, our certificate and workshops are designed to meet the requirements of today's busy professionals.

Delve into the current knowledge about how and why adults learn, and learn how to design, deliver and evaluate exceptional educational programs. Whether you currently work as an educator, or are looking to expand your knowledge of the field, our courses will help expand and strengthen your skills.

Explore the many facets of adult learning
Our certificate program and workshops are ideal for a wide range of individuals, including instructors, trainers, counsellors, human resources professionals and curriculum designers. From diversity training to program design, needs assessment to e-learning, our many offerings will help you:

•    Renew your commitment to adult teaching and learning
•    Develop new competencies
•    Learn the latest techniques
---

Adult Education Certificate
Gain a comprehensive introduction to the field of adult education and a widely recognized professional credential in our 90-hour program. Participants meet Friday evenings and Saturdays, once a month, September through May.
Certificate in Adult Education
Master the fundamental theories of adult learning and teaching, as well as the basics of program design, facilitation and evaluation.
---

Adult education workshops
Combining theory and practice, our intensive adult education workshops have been created by experts to give you the latest skills in a condensed period of time. Our broad range of workshops include:
Train the Trainer
Learn how to facilitate adult learning, and to design and lead effective, dynamic training.
Understanding Diversity in Adult Education  
Cultivate an inclusive learning environment by learning how to effectively integrate diversity into your practice.
 
Needs Assessment
Increase your theoretical and practical knowledge of needs assessment strategies and methodologies.

E-Learning
Explore the benefits, challenges and different models of e-learning.

---
How to register
1. Go to the page for the specific certificate or course you're interested in.
2. Click the "Add to Cart" button.
3. Log in or create an account.
4. Enter your payment details.
5. Click the "Submit" button.
6. You'll receive a confirmation by email.