About Us
Promoting Debate about the European Union in Canada

The Jean Monnet European Union Centre of Excellence (JMEUCE) is based at Dalhousie University and is funded jointly by the European Union and Dalhousie. It builds on the success of the European Union Centre of Excellence (EUCE) which operated at Dalhousie from 2006 to 2016 -- see the summary brochure for this period -- and it is one of a network of Jean Monnet Centres of Excellence around the globe.

The JMEUCE promotes academic, networking and outreach activities to enhance the awareness of students, scholars, public officials and the general public on a range of topics relating to the EU and EU-Canada relations, focusing particularly on the implications for Atlantic Canada.  Our Associates and Fellows conduct research on the EU from a variety of disciplinary perspectives.  See the Research section of this site for more details of JMEUCE and Centre-related research initiatives on important themes including health, migration, borders, trade and genome editing.  The Centre also supports student learning through courses, invited speakers and opportunities for student exchanges and study tours.
The JMEUCE is affiliated with the university's Centre for European Studies, and its activities complement other academic offerings on European history, society and culture taking place at Dalhousie.
Downolad the JMEUCE brochure for an overview: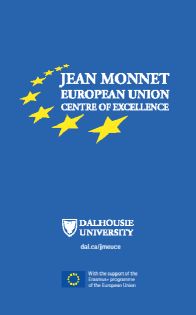 and the earlier summary brochure on the EUCE from 2006-2016.